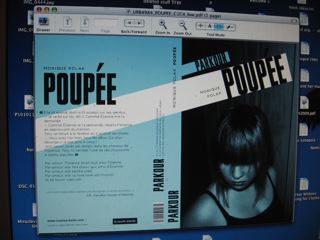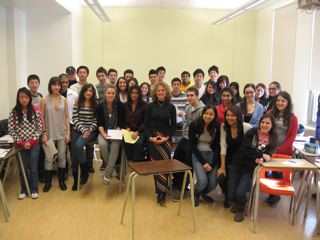 In today's pic, you'll meet my "Stuff of Nonsense" Humanities class. They're my Monday and Wednesday 8:15 group. They look pretty lively, don't they -- especially for such early-risers?
I bet you are wondering what in the world happens in a course called "Stuff of Nonsense." Well, we study the underlying meaning of nonsense. Today, we analyzed a joke about a teen and her mum. I warned the students in the class that by about Week Four of this term, they will no longer be able to simply laugh at a joke -- that's because they'll be ANALYZING it. In other words, I'll be ruining jokes for them. (Not to worry -- it's only a temporary effect -- by the end of the term they'll be analyzing jokes and laughing at them at more or less the same time.)
I am also trying to load another pic for you -- it's the cover of Poupée, the French translation of my YA novel On the Game -- due out next month with La Courte Echelle. And it's such a great cover, too. I really want you to see it! Only the file is too big and I am too confused to figure out how to make it smaller. I JUST FIGURED OUT A WAY TO DO IT. (I'll admit it's not perfect photography on my part, but hey, I get points for effort and endurance!)
That's it for today's blog entry. I've got to go read and write!!