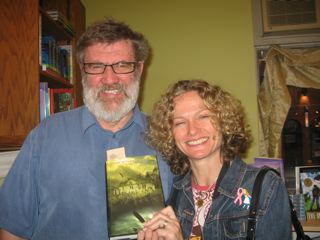 That's what I got to do last night! Prize-winning Canadian YA author Tim Wynne-Jones was launching his latest novel,
The Uninvited
, here in Montreal at Babar Books.
I got to know Tim this winter because we both served on the Arthur Ellis YA Crime Writing jury -- though we never met in
person, I did enjoy his clever and funny e-mails!
I had a chance to chat with Tim last night before he addressed the audience. I asked him whether he is happiest when he's writing and this is what he told me: "I am happiest when I'm writing. But there are days when you get sucked into other stuff. I'm actually in between books now. It's kind of nice. My next book could be the best book ever -- better than the Bible," he joked. "But if the waiting part takes too long then it begins to get scary."
Tim said he doesn't really enjoy writing a first draft: "For me, the first draft is hell. I'm frightened of it going away. I lie in bed at night and I'm putting in punctuation. It's like an illness. I want it out of me!"
When I told Tim that for me, starting a new project feels a little like falling in love -- you haven't yet discovered what will drive you crazy about your new love object -- he said something else clever and funny: "You can't fix the boyfriend!!" (Meaning of course, that you CAN fix a manuscript!)
Instead of doing a reading, which is what most authors do at book launches, Tim did an impromptu talk about The Uninvited. He explained that the book is written from three points of view and that it revolves around the theme of home and family. He added that, "I never know what the theme of one of my books is until I read the review!"
The Uninvited is Tim 31st book. "Some books come easily," he said, "this one didn't."
When asked about the difference between YA books and books written for adults, Tim said something really interesting -- a remark I'm sure I will mull over for some time: "In books for kids, the bottom line is, 'Get a grip.' In books for adults, the bottom line is, 'let go.' 'Get a grip' means hold on, life might be s***, hold fast, it's going to be a rocky ride, but you can make it!'"And that's the thought I'd like to leave you with today. Hold on, it's going to be a rocky ride, but you can make it!