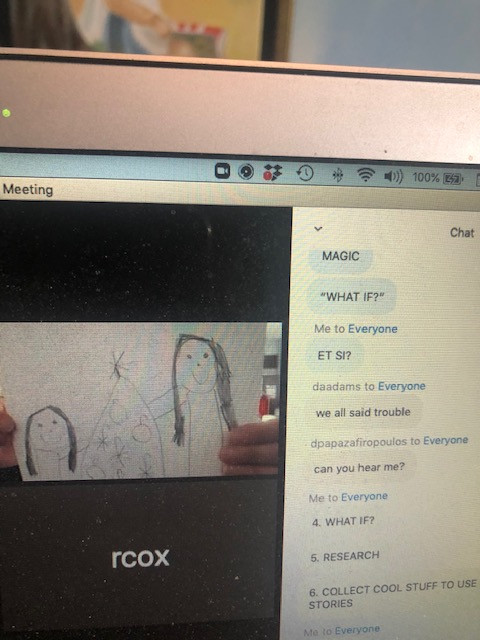 It's not every day I get to work with students from kindergarten to Grade Six! But that's what happened yesterday during my virtual writing workshops at Crestview Elementary School in Laval.
My friend resource teacher Monic Farrell invited me to Crestview – and my visit was sponsored by ELAN's ArtistsInspire program, which allows artists in many disciplines to share their skills with kids across the province.
I started the day with the kindergarten to Grade Two classes. And I'm not exaggerating when I say I taught them pretty much the same pointers I teach my students at Marianopolis College – I just used simpler words. We talked about how memories sometimes inspire stories. And teacher Miss Demetra reminded me to show the students my Princess Angelica books – which grew out of my own memories of summer camp. There was even time to give the students a mini-writing exercise, though I told them they could draw a picture instead of using words to tell their stories. I asked them to use their memories to remember a happy moment from the pandemic we're all living through. A student I'll call "A" came up to the screen to show me the picture she'd made of herself and her mom – and she allowed me to share her picture with you in today's blog! And a student I'll call "S" drew a birthday cake, which was her way of telling the story of her pandemic birthday party.
Later, when I worked with the Grades Three and Four classes, I noticed a student wearing a blue sweatshirt who started dancing whenever I taught his class a new writing tip. He told me his name was Phoenix (which I thought was a cool name and worth borrowing for a future book!) When I asked the students if they want to write – if writing MATTERS to them – well Phoenix started dancing again. You know what? I could tell that meant yes! I also noted that Phoenix is a seriously good dancer!
I ended my day with the Grade Sixes. You'd think I'd be tired by then, but these kids energized me. We talked about the importance of trouble in stories – how trouble acts like fuel to help move a story forward. Because these students were older, I told them my mom's story – how she survived the Holocaust, and how she wanted to keep her experience secret, but that I convinced her to share it with me, enabling me to write the book What World Is Left.
A student named Ty asked me a beautiful question which I'm going to share here: "Before your mom died, what was the thing you mostly did with her?" I had to think for a minute before I realized the answer – it was listen to her TELL STORIES. My mom never wrote a book, but in her own way, she trained me to be a writer because she loved telling stories, especially funny ones!
I think you can tell it was a special day for me "at" Crestview – even if I only visited by Zoom. Thanks to all the teachers for sharing your kids with me, thanks to Ms. Farrell for the invite, and thanks to the students for being FUN and DELIGHTFUL!!