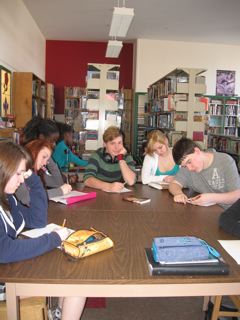 Hello hello, dear blog readers! I'm just in from a long, but happy day. I started at Marianopoliswhere I taught my "Writing for Children" course, then I zoomed out to Ste-Anne-de-Bellevue where I did four writing workshops with students at Macdonald High School. I had a 50-minute session with each group and I tried to tell them as much as I could about how writing works for me and I also gave the first three groups writing exercises. Some of the exercises were playful; others required more work. This method ties into my view that writing is a combination of work and play.
At lunch time, librarian Sandy Davis, who organized today's visit, invited students with a special interest in writing to come and hang out with me. Lunch with these young writers was a special treat. Among the students I met were Robyn, who loves horror stories, and Kimberly and Melissa who wrote magazines for their classmates last year and the year before. Cole was sitting on a couch at the back of the library during lunch, but I have a feeling he was pretty tuned in just the same!
I'm always encouraging young writers to observe the world around them and look for interesting stuff they might use in their stories. So, how about I share some of my favourite observations from today? I observed a boy with the words "HIS THRSDAY" written on his arm... he had left out the 'u' in Thursday (I know because I asked him; he also told me the message is meant to remind him of a history quiz coming up later this week). I observed a student named Josh who carries around his sharpener with him. I observed a student named Katie with fluorescent orange hair and two piercings under her lower lip. I observed a student named Tyler who gave me an intelligent nod -- even before I began discussing the power of body language.
For last period, I met a group of voc. ed. students. They arrived without pen and paper. Usually, I'd send them back to their classrooms so they could fetch what they needed to take notes... but something told me to "go with the flow" and... we had an unusually frank conversation about stories and the intersection between real life and fiction. I felt a lot of stories in those students, and I wish for them that they will find the time to write their stories and listen to other people's stories, too. As I told them, sometimes the best stories are sitting next to you in class -- or across from you at breakfast.
That's it for today's blog entry. Tomorrow I'm going to be interviewed about Blue Met for CTV. I'll try to post a link if I can, and I should also post a link to the little radio interview I did that ran on CBC yesterday morning. Wednesday, Blue Met begins, and I'll try to do regular posts to let you know how the festival is going.
In the mean time, keep your story radar out. And let me know what you find. Special thanks to Mrs. Davis for inviting me to Mac, to the teachers for sharing your lovely students with me, and especially to the students for being so receptive.