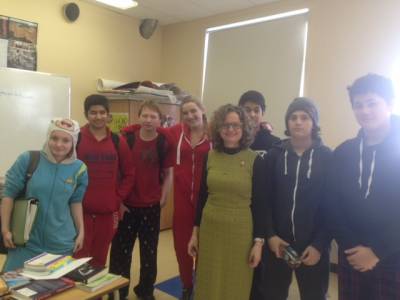 If you're wondering why some of the kids in today's pic are wearing pajamas, it's because it was Pajama Day at Kuper Academy. I was there to pay my third of three visits to the school. This morning, I visited another one of Miss Machaca's Grade Eight classes -- and they were wonderful.
Because I spoke a little about how important it is for authors to make observations (so that they include interesting details in their stories), I asked some questions about the pajamas the students were wearing. Several were dressed in onesies -- can you figure out my question? I wanted to know how they manage to go to the bathroom! (Admit it! You were wondering about that, too!) Imagine trying to go to the bathroom when you are wearing a onesie -- that would be a good scene to include in a story!
When we were discussing body language, I asked students to have a look at how people were holding their pens. A student named Alex observed that one of his classmates was ready to write. "Pen at the ready!" said Alex. I liked Alex's use of language -- "Pen at the ready!" sounds lively and fun, and it makes me think that Alex is the poetic type.
We talked a little about my historical novel, What World Is Left, and I told the students how the book is based on my mom's wartime experience. My mom lived in Amsterdam, but after the Nazis invaded the Netherlands, she and her family were sent to a concentration camp in what is now the Czech Republic. A student named Wiske stayed to talk to me after class. Wiske moved from the Netherlands to Canada six months ago. We spoke about Anne Frank -- which made me realize I had forgotten to tell this morning's class that my mom and Anne Frank attended the same high school for Jewish students in Amsterdam. If Anne Frank was alive today, she would be my mom's age -- 85.
On my way out today, I stopped at the library to thank the librarian, Mrs. Mohammed, for inviting me to Kuper -- I really had a great time. The kids were super -- focused, interested, and perfectly behaved. I also had a chance to meet Mrs. Salette, the head of school. It is always fun for me to meet the administrators who run the schools I visit. And then I had a happy surprise. Mrs. Salette's son, Rob, is the school's director of admissions. And guess what? I taught Rob at Marianopolis!
Here's to interesting observations, turning trouble into stories ... and happy surprises! Thanks to all the students I worked with at Kuper. You guys were a pleasure!