Why hello blog readers! It's Sunday morning and I'll be heading out soon to host a Writing Salon on the final day of this year's Blue Metropolis Literary Festival. I'm going to talk a little about writing and then, well ... we're going to do something wonderful: WRITE!
Because I attended three super talks at Blue Met yesterday and did an on-stage interview, I've got loads of useful new writing tips to share with the people at this morning's event.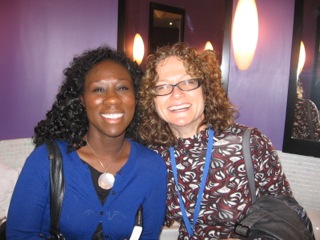 I think I'll start by telling them how Esi Edugyan, the Giller Prize winning author of Half-Blood Blues told us, "Talent is probably more common than we think." (That's Esi and me in today's pic. the CBC's Maria Turner gave me the honourable task of escorting Esi to the bathroom and the festival bookstore, and I got someone to snap our photo just after Esi and I washed our hands!!)
Edugyan told us many important things. She explained a little about her writing process: "My first draft was very straightforwardly written. I thought, 'I'm going to have fun and play.'") Hey, student in my Nonsense class, I hope you are seeing the link here to what we've been talking about during the semester: the important connection between hard work and play.
To be honest, I would not have trusted Edugyan if she'd told us that all parts of the writing process come easily to her. So I loved when she admitted, "the early drafts feel thankless. The passion has to be there."
So, I've got so many notes from Blue Met that you can expect several more blog entries about it this coming week. Talk to you soon. Happy writing and reading!!