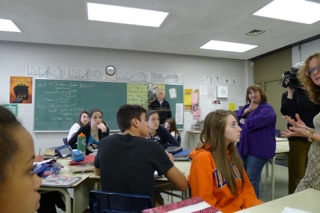 If you've been reading my blog for a while or if you know about the Blue Metropolis Literary Foundation, you will know that Quebec Roots is an educational program in which teams of writers and photographers travel across the province to help students produce a chapter in a book called Quebec Roots: The Place Where I Live. You will also know that the other Monique is my dear friend and fabulous photographer Monique Dykstra.
The exciting news is that after an initial delay, the 2013 edition is back on track!
This afternoon, the Moniques did a short but action-packed writing and photography workshop with Mary Eva's Sec. IV Language Arts class at Heritage Regional High School in St. Hubert. Were Mrs. Eva's students ever smart and enthusiastic!
About today's pic: Those are my hands and Mary Eva is wearing the purple blouse. But what I like best about the pic are the students' faces. I think that you can tell they're excited to be part of the project!
Besides our mini-workshops, we Moniques had another goal today: to help students come up with a focus or topic for their chapter. We had an exciting down-to-the-clock brainstorming session. Some of the topics the students suggested were: the high cost of poutine in the school cafeteria; and homophobia. But because we are democratic sorts, we put the matter to a vote and the students agreed on a topic they all felt they would be able to explore through words and images: school rules and how they are enforced, or sometimes not enforced, and how some students end up in detention.
Of course, because I have a writer-ly interest in TROUBLE, I am eager to read about what goes on in the school's detention room. I am hoping the students will write about that -- and take pics of course, too!
At the end of our session, a student named Brandon was interviewed about Quebec Roots. I was super proud when I heard him say, "Now we're authors. It's very cool!"
Many thanks to Line Richer of Blue Met who accompanied the Moniques, and to Don and Dan who caught our adventures with the class on video. Thanks, Mrs. Eva, for sharing your class with us and to your students -- welcome on board! And I mustn't forget to thank Gabrielle who took good care of my husband's camera and shot some nice pic's -- including the one on today's blog post.