I'm not one to complain (certainly not here on my blog!), but I've been feeling a little under the weather. I have been fighting asthma for several weeks. But something finally lifted my spirits today -- a visit to Eric Rowles's Grade Three class at Saint Monica Elementary School! Mr. Rowles and his kids had me smiling in minutes!
Quebec Roots is a project sponsored by the Blue Metropolis Literary Foundation here in Montreal. Teams composed of a writer and a photographer will be visiting seven schools across the province. The photographer I'm paired with is my friend Pierre Charbonneau, who's not only a talented artist, but also has a great mellow vibe (let's say mellow isn't my strength, even with asthma).
The kis had to come up with a topic they be producing text and photos about -- they chose a fabulous topic. I've been doing Quebec Roots for 16 years and on my way home, I thought, "How come no other kids ever chose this topic?" The topic is: Friends: Real and Imaginary.
I gave the kids some basic writing tips -- such as trouble makes a good story (so they shouldn't only write about happy friendships. Perhaps they have felt disappointed by a friend, or perhaps a friend moved away.) We also discussed the importance of including SENSORY DETAILS -- which means stuff that has to do with the five senses. Is there a food you associate with a friend? Or a place you could describe -- such as two students Bill and M who met at the Benny Pool a few weeks before school started.
I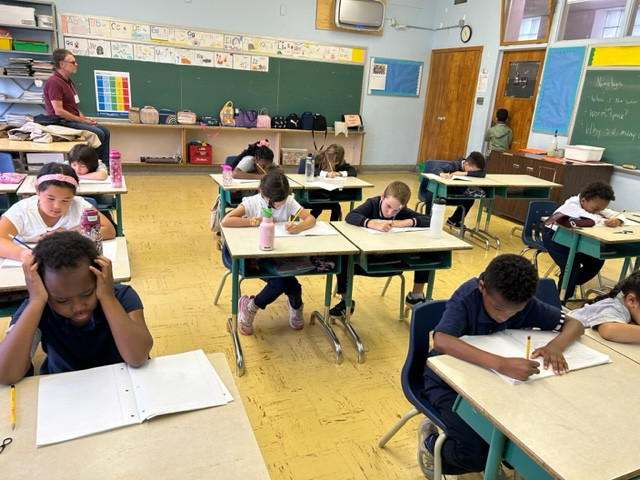 I loved what the kids had to say about imaginary friends. Chesrey has an imaginary friend named Stacey: "Every time," Chesrey told us, "I think of her I feel better." One student (I thought I wrote down his name, but I didn't -- send it to me in the comments and I'll add it to his blog post later) told us his imaginary friend is a golden retriever whose favourite movie is 101 Dalmations!
During Pierre's photography workshop, he helped the kids find ways to take some super pics. And this was only Day 1! He taught them about the importance of action photos -- and he gave us a useful tip that I can definitely use myself. If, when you take a pic with a telephone and it comes out blurry, use BOTH HANDS TO HOLD THE TELEPHONE. We tried it and it works!
We'll be back at St. Monica in three weeks from today. Kids, I need you to start writing some texts about friends -- real and imaginary. PS: Thanks for making me feel better and for coming up with a great topic.
Just want to add that I have a REAL friend named Stacey. One interesting thing (a sign of trouble!) is that we didn't hit if off at first!!), but especially this summer, we became very good friends. And it's good she's not imaginary, because though I told her NOT to do this, she just showed up at my door with a CARE PACKAGE. Which goes to prove that friendship (real or imaginary) can be very comforting!!
Okay, time for me to eat Stacey's soup. Here's to the new school year, Quebec Roots, and friendship of every kind!