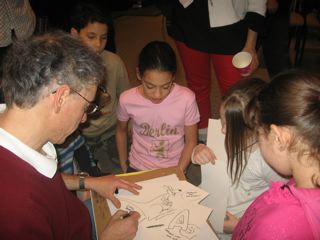 So I'm just back from a press conference to promote a Montreal literacy organization called "J'Apprends Avec Mon Enfant." Today, JAME began a new initiative to promote literacy -- 60 children's books are being "sent out" into the community and the goal is for the books to be read to as many kids as possible. I'm one of the "passeurs de livres," meaning I'm going to read my book to a child (maybe to my class tomorrow morning -- they're not exactly little kids, but it is a course on Writing for Children) and that child will pass on the book to another child.... the idea is for people to report back to the JAME website at www.passeursjame.org Pretty cool idea, no?
Several well-known Montrealers were at the event this morning: actress Denise Filiatrault, hockey player Rejean Houle, illustrator Jacques Goldstyn (that's him in the photo, making drawings for some of the kids in the audience) and author Marie-Louise Gay. In a short address to the audience, Gay talked about the "plaisir de la lecture" -- the pleasure of reading. Though she writes and illustrates mostly books for very young readers, she also talked about what reading means to teenagers: "through books they learn that they are not alone."
So the book I'm passing on is called Loup Noir and it's by Antoine Guilloppe -- what's especially cool about it is that it has NO WORDS. Now that doesn't mean there isn't a story!! Hopefully one of the students in my class tomorrow will have a younger brother or sister, or a babysitting client who will enjoy the book, too ... and we'll have begun our chain.... Okay time to get to school. Have a good day wherever you are!