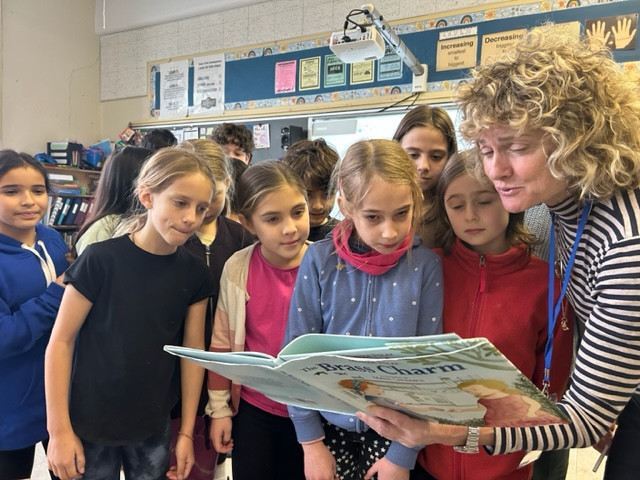 This Saturday will be Remembrance Day -- a day on which Canadians remember the brave men and women who served to protect our country. Because several of my books are set during wartime, my friends at the Blue Metropolis Literary Foundation arranged for me to visit Willingdon Elementary School's junior campus today to share writing tips, read my picture book The Brass Charm, and encourage students to be kind and work for peace.
So I spent a happy morning with two grade four classes -- taught by Ms. Leckner (whom I have known for many years!) and Miss Carole (whom I met for the first time). We were assisted by Ms. Amanda, and even the school's vice-principal Mr. McKelvie (whom I've also had the pleasure of meeting before) popped by to listen to my presentation.
The students were A-MAZING!! For one thing, they had loads of questions. In fact, there were so many questions and comments I had to ask some students to jot their questions down and ask them to me later -- because I was worried I wouldn't get to teach them anything about writing!
Here come a few of the questions/comments. Emilie shared a problem she faces when she writes: "I'm really good at starting novels, but then I get stuck." I explained that this is an EXCELLENT problem that many professional writers face too. My own trick is simple: keep writing! Julianna told us, "I want to write a book, but I never know what to write a book about." So I shared my tip about doing research. What topic are you most interested in learning about? Maybe answering that question will help Julianna focus in on the kind of book she might write. Naveen told us, "I keep a journal when I go on a four or five-day trip." Excellent news, Naveen! Don't throw those journals out. They could become the basis for a book some day. Odin told us, "I sometimes write books for my brother who's six." Having a younger brother is a great source of inspiration! Many professional writers, such as A.A. Milne (author of Winnie-the-Pooh) write stories for the kids they love.
After sharing a few writing tips, I told the students the story behind my book The Brass Charm -- and of course, I showed them the brass charm I wear around my neck every single day. They were a great audience -- kind, respectful and interested in the story and also in the illustrations by Marie Lafrance.
I ended today's session with a writing exercise I invented in honour of Remembrance Day. I asked the student to remember a fight they had either witnessed or participated in -- and then to write a little about that memory. (See there's another connection to REMEMBRANCE Day -- remembering is important for so many reasons!) There was a Part 2 to the exercise. I asked the kids to add a new ending to their memory -- to imagine a solution to the conflict.
Miles gave me permission to share what he wrote. Here goes: "I had a fight with X. He threw ice at me all winter. I could just walk away, or I could talk to him. I could say, 'I don't want you to hurt me.'"
As I told the students, it sometimes takes courage to remember (especially when we're remembering difficult times), and it also takes courage to write. I told Miles that he's a courageous young man.
We are living, of course, in a time of great conflict, with war in both Ukraine and the Middle East. As I was walking in the halls of Willingdon, thinking about the students' questions, comments, their writing, and their openness and curiosity, I had the strongest sense that things are going to be okay -- that stories can help to give us hope, and to create connection with others.
Thanks to spiritual animator Ms. Wilson for helping arrange today's visit; to the teachers, and to Ms. Amanda and Mr. McKelvie for sharing your kids with me; to Blue Met for making the visit possible -- but especially to the Grade Fours I met today. You guys ROCK! Big big big thank you!