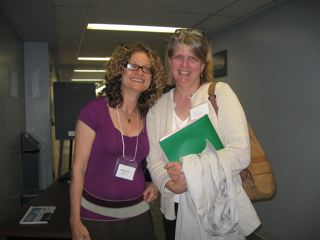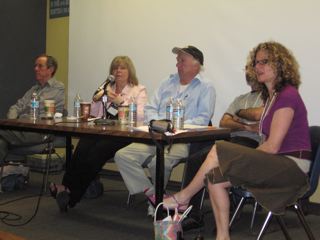 How did it already get to be Wednesday?
Can you tell I'm in non-rushing mode?
Here comes my report from last weekend's Imagine A Story conference, which took place here in Montreal, and was organized by YesOuiCANSCAIP.
In addition to hosting a panel, I attended three workshops. In this entry, I'll focus mainly on the first one, which was run by one of my heroes, slightly curmudgeonly, but oh-so-talented and I think, kind, too, Brian Doyle. (You may know his books which include Uncle Ronald, Pure Spring and Angel Square.)
Brian spoke about the importance of setting. A long-time high school English teacher, he also made reference to great authors like Shakespeare and Hemingway. Brian thinks we can learn a lot from the writers who came before us: "We should apprentice ourselves to those who know what we should be doing."
Most of Brian's stories are set in the Ottawa Valley. He urged his workshop participants to find the stories that surround us: "The most interesting place of all is your place -- your yard, your front porch, your garden, your street. Use the matter that is humble in your life -- the ordinary stuff."
I found this message inspiring and encouraging both... just the kinds of feelings a person wants to get from a writing conference.
Other speakers were Ontario author Marsha Skrypuch and editor Peter Carver. Marsha shared hints for researching historical novels (she said that one way she goes about figuring out what she needs to know is by trying to imagine 24 hours in the life of her main character... a useful tip for those of us working on historical projects). Peter gave us an insider's view of the publishing business. I'm looking forward to reading Peter's new book, So You Want to Write a Book for Children?
A word about today's pics -- there's one of me with the panel. The man in the baseball cap is my curmudgeonly friend BD; Marsha's in the pink jean jacket; Peter's at the far end of the table, looking most alert. And the woman with me in the last pic (eyeglasses on her head) turns out to be the super-nice mom of one of my students. (We'll call him Eric!)
I'm off to Ottawa on an assignment today. More news from me before the end of the week!