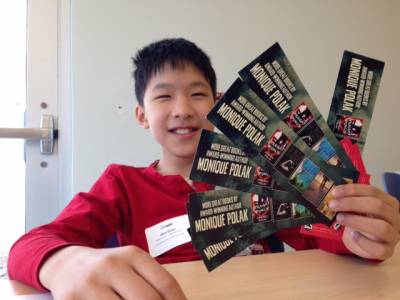 Meet Alan! That's him in today's pic. Alan was in my last workshop today on the final day of the MASC Young Authors Conference at Ottawa's Aviation Museum. As you may already have figured out, Alan collects bookmarks! Usually, I only hand out one bookmark per student, but Alan collected a few extra, and when I was discussing examples of body language I happened to catch him in the act – making a fan out of my bookmarks. I decided it was photo-worthy.
So I had two more great groups of students today. In her introduction this morning, MASC's Faith Seltzer told the students: "Pick the authors' and illustrators' brains and I'll let you in on a secret: they'll be picking your brains too!"
That's definitely the truth!
In today's entry, I'll tell you about some excellent brains I picked! I learned that a student named Aashaz has an indoor rink in his basement. Though it's made of plastic, Aashaz and his brother skate on it while wearing real skates! (I had never heard of that before, and I think it's super-interesting and belongs in a book. Don't you agree?)
This week I began experimenting with a new writing exercise. I asked students to use any of their five senses to observe something interesting in our room, but I told them that I wanted their observations to evoke emotion. Here's what a student named Moumita came up with – she saw one lone marker on a shelf, and for her, it represented "one lonely person at school." Nice work, Moumita!
If you've been following my blog over the last few days, you'll know I had an amazing time at the MASC Young Authors Conference. I got to hang out with great kids, and great authors, and work with a great team from MASC and their out-of-this world volunteers. Hey, how am I going to get back to real life tomorrow?