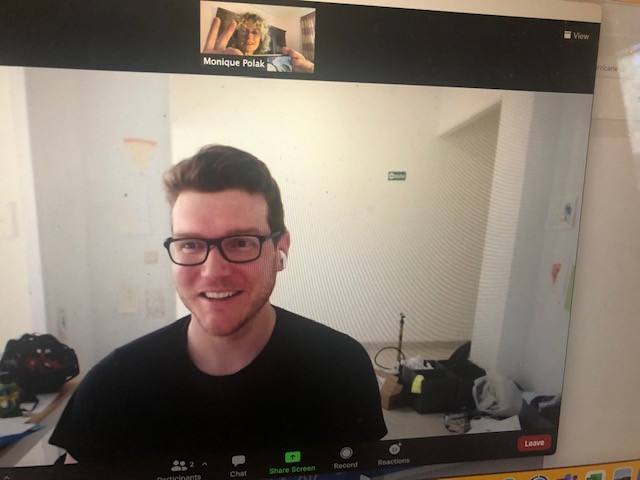 You're probably wondering who the young man in today's pic is. Why, It's Ben Fox, who runs a cool book recommendation site called Shepherd.
I started my day on Zoom with Ben, who has been living for the last year or so in northern Portugal. Ben was raised in Arkansas; he's an entrepreneur working in the tech industry. He started working on the Shepherd website last December, and the site went live in April. Ben and his team reach out to authors and ask them for their book recommendations -- usually related to a single theme.
Which is how I met Ben. He'd heard of my middle grade novel, Planet Grief, and asked for my suggestions about other books I might recommend on the subject of grief. I shared several of my favourites, including some by author friends Alan Silberberg and Diane Terrana.
I was curious to meet Ben and find out why he started the Shepherd website -- so we arranged this morning's visit. Ben explained that since he was a kid (he's now 40), he's been hooked on reading: "I read a lot of books. I read really fast. I love walking through a bookstore and letting my eyes roam. I wanted to recreate that experience for readers, and help authors at the same time," he said.
So far, more than a thousand authors have posted their recommendations on Shepherd. Pretty cool, no?
I asked Ben why he picked the name Shepherd for his project. He told me, "We're guiding people to new, cool things."
I love that! Like Ben, I have always relied on book recommendations. If a certain friend loves a book, I know I'll love it too. Check out the Shepherd website ASAP. And for author friends reading this post who'd like to take part in Ben's project, visit https://forauthors.shepherd.com/faq
Here's to great book recommendations and happy reading! And special thanks to Ben and the folks at Shepherd for your excellent shepherding work!!