Lately, I've been getting a lot of e-mail from students -- mostly in the U.S. -- who are doing assignments about some of my books. These e-mails are especially satisfying to me, I think, because I am a teacher as well as a writer.
Yesterday, at a family celebration, a couple who are friends of my sister's, told me their daughter Brittany is working on a book report about What WorldIs Left. As far as I know, this is the first assignment a student has done on the new book!! Pretty exciting!! My sister's friends -- Charlene and Stewart -- asked whether it would be okay if Brittany posed for a picture with me and my mum (in case you're new to this blog, What World Is Left is based on the story of what happened to my mum in Theresienstadt, a Nazi concentration camp). Brittany is 11 years old and goes to Hebrew Foundation School in Dollard-des-Ormeaux, on Montreal's West Island. So today, I met Brittany and her parents at my parents' house and Brittany's dad took some pictures.
Here's what Brittany had to say about What World Is Left: " I felt bad for Anneke [that's the main character in the book] especially when she got her tonsils out." In the story, Anneke is not given any anesthetic when her tonsils are removed -- this is what happened to my mum, too.
It's a sad story, but in many ways, a hopeful one, too. My mother is now 79 years old and still a very funny, feisty lady. Her story can give hope to young people (and older ones, too) who are going through tough times. Check out the picture Brittany's dad took of Brittany, my mum and me -- and What World Is Left.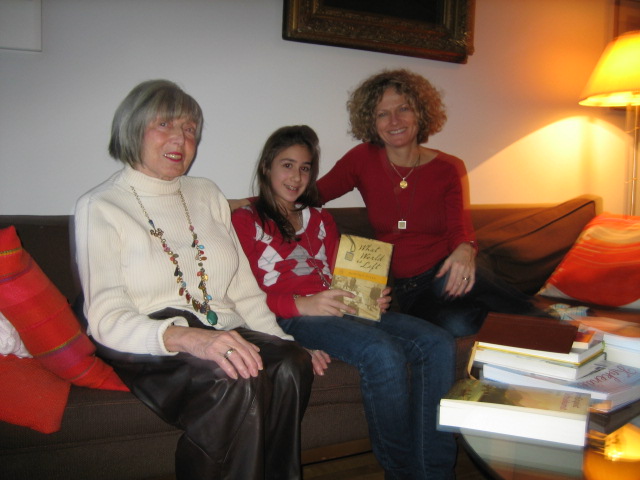 Busy week coming up since school is nearly over and my students are gearing up for their final essays. Which means I may not have a lot of time for blogging... but I'll do my best to at least stay in touch. Can you believe it's nearly December?!