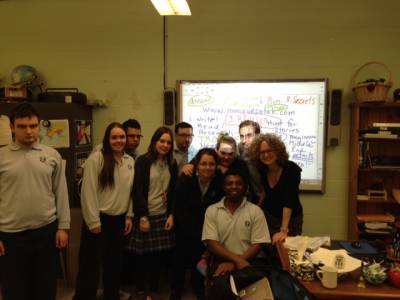 There are a lot of reasons why my morning was special. For one thing, I was working with special needs students at John Grant High School -- and they were terrific! Usually, I get about an hour or maybe 90 minutes with a class, but today, I had nearly three hours! That meant I could take my time and also that I had a chance to get to know the young people I was working with. These students are in the JOP stream. JOP stands for Job Orientation Program. That means they have classes on Mondays and Tuesdays, and from Wednesday to Friday, they are out doing internships in the community. I'll bet they have a lot of interesting stories about their time in the workplace!!
Another reason the visit was special is that my book Hate Mail is dedicated to David R, a student in the class. David R didn't want to be in the photograph, but he kindly agreed to be our photographer.
And another reason why the visit was special is that John Grant is located in what used to be Wagar High School -- my old high school. I haven't been back in the building for nearly forty years -- and I was surprised by how familiar things felt. Even the room numbers on the doors are still the same.
So, back to the students! We were talking about the link between writing and reading, and I asked the class if they enjoy reading. Jabbaar answered, "50-50." You know what I love about that answer? It's honest! Romy said, "I used to hate reading, but now I love it." I also noticed that Romy took amazing notes. Good job, Romy!
I told the students how hard it was for me to get my first book published. "What do you think that felt like?" I asked them. A student named Mitchell came up with a poetic answer. He said, "It must have felt like you were all alone and the walls were closing in." Mitchell, something tells me you should be writing poetry!
I ended the session with a writing exercise. Usually, I have to shush a few students at this point in my workshops, but not today! Claudio wrote a cool story about his grandmother hitting a mouse with her bare hands. And what do you think of the way William started his story: "I first heard the word 'tantrum' when I was ten years old." William, I definitely want to keep reading that story!
Thanks to the JOP students for being such focused participants; thanks to your teachers Miss Yankowsky and Miss Toffoli, for sharing you; and thanks to librarian Mrs. French for arranging my visit. I can't imagine a happier start to this week!