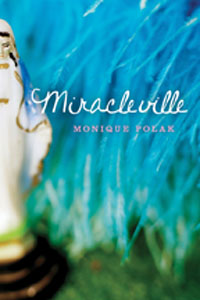 Maybe I'm being a little too optimistic -- considering it's only the second day of January 2011... but look what I saw outside today! Two clotheslines in action!! (One of them is mine -- that's our butter-coloured balcony.) So this means there are at least two crazy households here in Montreal -- hanging out our laundry with a couple of feet of snow on the ground!
This is just a short entry to wish you, dear blog reader, all the best in 2011. And in case you are missing me very much, here are links to two sites where you can see me in person. (One is the Quebec Roots website where visual artist Thomas Kneubuhler posted a spirited multilingual greeting from our trip to Nunavik; the other is a little interview with yours truly that was aired on CTV on December 31. If you want to check out the CTV interview, you need to look for my name on the right side of the CTV Montreal homepage... not sure how much longer it'll be on their website.)
Okay, more news from me later this week. Time to see if our sheets are dry!!
PS: I guess it's Show 'n Tell around here today -- I just posted an image of the cover of Miracleville -- due out this spring. Pretty, isn't it?!!