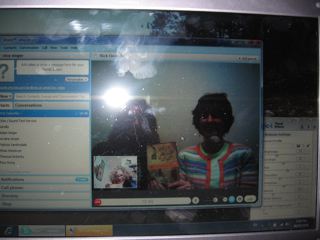 Now you may be wondering why beautiful weather in Indiana would cause me to go, "Uh oh!"
Well, it's because this afternoon, I was all set up to do a Skype virtual visit with students at Zionsville Library in Zionsville, Indiana. Only the weather was so beautiful that apparently none of the students enrolled in the library book club showed up! But don't worry, all was not lost. (It never is, you know!) I ended up having a super interesting conversation with two fellow book lovers: librarian Patricia van Arsdale and Zionsville High School teacher Julie Noel. Patricia and Julie had a few questions for me about What World Is Left , my novel based on the story of my mum's experience in a Nazi concentration camp... but then we got to talking about books and why we love YA books. Julie told me she is part of an adult book club, too, and that she's always suggesting YA titles for her grown-up friends to read. It's funny how talking about books creates a bond between people. The three of us had all read and loved Suzanne Collins's book The Hunger Games. I asked Patricia and Julie each to recommend a YA title for me (and for you, too, of course!). Patricia's pick was If I Stay by Gayle Forman ; Julie's was Inkheart by Cornelia Funke . I am planning to read both of them... though that may not happen until the semester is over. But ahh, it is delicious to have wonderful books to look forward to!
You know what I think would make a really cool YA book? One about a book club -- the teens in it, the books they read, and the connections between literature and their lives. Julie, if you're reading this blog entry, maybe you're the one to write it... unless some of those talented teen members of your book club get to it first. Best to all of you. Glad you were out enjoying the beautiful day, even if it meant I didn't get to meet you! Thanks to Patricia and Julie, and to Rick Deuschle for hid technical support!