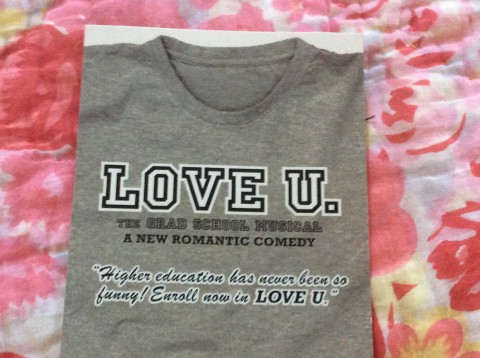 I'm always interested in what happens when an author -- take my friend Joel Yanofsky -- tries a new kind of writing. Which is why I'm devoting today's blog entry to Joel and his new romantic musical comedy Love U: the Grad School Musical which premieres tomorrow night at the Segal Centre here in Montreal.
Joel and I had a phone chat this morning and he told me that he's spent 18 years (off and on, of course!) working on this project. His artistic partner is California-based musician Peter Curtis. Joel says that the best thing about this project was being part of a creative team. Thanks to Infinititheater, Joel got to work with a "unit" of playwrights and actors who workshopped their projects together.
I asked Joel what he learned about writing from the experience, and he told me that the biggest lessons came from seeing an audience (the other members of the unit) respond to his writing. "You get to sit there and notice how people are reacting at the time to things like pacing. You realize where you have to make it faster," Joel explained.
Joel also pointed out that book-writing tends to be a solitary process. "I'll miss the collaborative nature of this project," he said. But Joel feels that he will take the lessons he learned from his work on this musical comedy back to his book-writing: "I have a better understanding of the importance of getting to the action."
Hey, if you're in Montreal tomorrow night, maybe you'll want to come to the premiere of Love U: the the Grad School Musical. Tickets are free. Go to the Love U: the Grad School Musical Facebook page to learn more and to reserve a ticket.