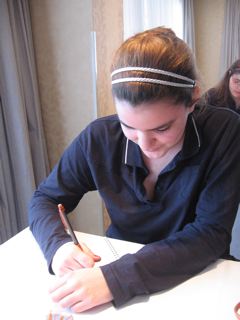 The reason the student in today's pic is hiding her writing is because IT MUST BE REALLY INTERESTING and she didn't want some snoopy writer (guess who?) reading it!!
It's kind of late and I'm just just home after a busy, but super interesting day! This afternoon, I did a writing workshop at the Blue Metropolis Literary Festival here in Montreal. My topic was "Making Miracles" (that's a not-so-secret reference to my newest book Miracleville!!).
I divided my workshop time between talking about how writing works for me and giving the students writing prompts. In one exercise, I asked the students to remember a moment in their lives when they faced trouble. I also tried to get them to include sensory memories in their descriptions. While they worked, I did my usual snooping... but I did tell the students that if what they were writing was private, they should hide it from me. (Which explains today's photo.) Anyway, I love secrets and stories with secrets. Of course, as writers, we do eventually need to share our work. But here's a little tip. If the material is really sensitive, switch it up. Change the sexes of your characters or their looks or their ages. AS LONG AS THE FEELINGS ARE REAL!!
Special hello to the students who were at today's workshop and to their wonderful teachers, all of whom did the writing exercises, too! Several students made the trip to Montreal all the way from the Gaspé -- a 14-hour train ride. And three of them had heard me before (hope I didn't drive you crazy with my stories!)
Brittany who goes to Bonaventure School added a fun word to our discussion. I told students that writers need to be spies; Brittany said they need to be "NINJA spies." I'm going to add that to my talks from now on, Brittany. Another student named Janna, who also lives in the Gaspé, was the only student from her school (Gaspé Polyvalent) selected to attend Blue Met this year. I had a chance to talk to Janna at the end of my presentation. What I told her goes for all the other young people I met today, including those from Lower Canada College and Chene Bleu: "USE YOUR TALENT!!!"
Watch this space over the next few days for more news from Blue Met! And if you can, get yourself over to the festival before it ends on Sunday!