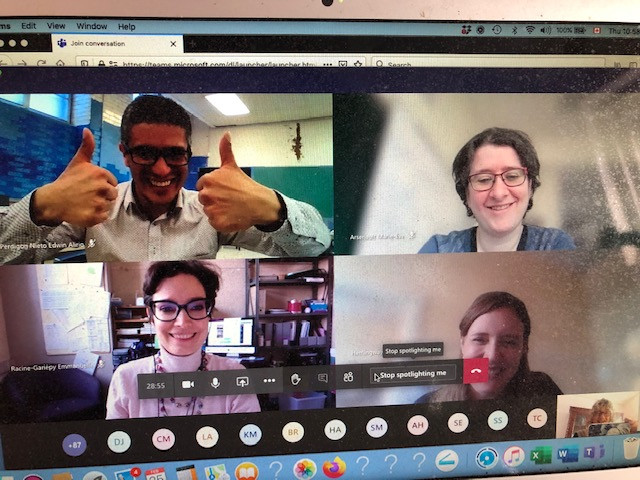 I was back at F.A.C.E. this morning (at least virtually), this time to work with the Sec. IV music students on our Caesura project. As I explained in an earlier post, a caesura is a musical term for a pause -- which is exactly what's been going on in all our lives lately. But the caesura is perhaps even more pronounced for young music students, most of whom live to perform. My friend music teacher Ms. Stathopoulos came up with the idea for a creative project that would make up (at least a little) for the students not having their usual end-of-the-year concert. I'll be supervising the students' writing, and then -- even cooler! -- the students will work with a professional musician who'll help them set their words to music.
I took today's pic when I noticed teacher Mr. Edwin giving me two thumbs up! (That's him at the top left of today's pic.) He gave me that signal when I was discussing the connection between writing and music. I was explaining (at least I think I was!) how strong emotions bring writing to life -- and I said I was pretty sure the same was true for music. (That's when I got the double thumbs up, indicating I was on the right track!) Another big connection between writing and making music is they both require discipline. These students understand that they can't become better musicians by lying on the couch; they need to get up and play their instrument or sing or compose!
There was time at the end of my visit for a few students to share comments. In response to what I said about sometimes hearing my characters speaking to each other when I'm in the shower (I know, I know, it sounds weird, but it happens, and it's wonderful when it does), a student named Nika told us how, last summer, she'd written a short film. "I heard the characters talking," she explained. See! I'm not the only one it happens to! A student named Chiara made me happy by telling me she'd read some of my books -- and enjoyed them. And a student named William wanted to discuss motivation -- which I found super-interesting since my own students at Marianopolis College brought up the same subject yesdterday. I didn't see William's face, but I did hear his voice -- and he didn't sound unmotivated to me! Also I could see his teacher Ms. Marie-Eve smiling while William was speaking -- a sign that he's a good student. Sometimes, I think, we all need a bit of a break from being hard-working and motivated. Maybe that's part of what this caesura in our lives is about too. And I also wanted to mention a student named Elie, who just wanted to say thank you, but whose voice sounded like music in my ears.
So thanks to the F.A.C.E. students and their teachers for making me so happy this morning. Thanks to Ms. Stathopoulos for the great idea -- and to ELAN's ArtistsInspire program and the F.A.C.E. Foundation for making Caesura possible.