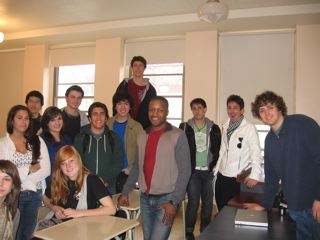 I know what you're thinking -- what could a photo editor have to teach us about writing?
Well, you'd better keep reading, because today, Marcos Townsend, photo editor at TheGazette here in Montreal, came to visit my Print Journalism class at Marianopolis College (that's Marcos in the foreground of today's pic) -- and he had some useful writing tips. Here comes my favourite: Marcos believes that like photographers, writers need to "consider context -- don't leave things in your story that aren't relevant; don't have distracting elements."
Marcos happens to be an excellent storyteller, which made his talk today extra-interesting. He told about visiting Haiti before the coup in 2004 and also about shooting pictures at Ground Zero on the day of 9-11. And of course, Marcos showed us some of his photos. I found the photos of 9-11 really moving. In one photo, we saw a fireman sitting on the ground, looking distraught, the wreckage in the background. It was a simple, but powerful and hard-to-forget image.
In class and outside of class, too, I've been talking with some of my Journalism students about story-gathering. Some students have expressed concern that "getting" a story may involve invading someone else's privacy -- so I asked Marcos how he feels about photographing sensitive situations. Marcos gave the example of taking the photo of a grieving family after there's been a tragic death: "I'm telling the story of a tragedy that's happened. It's important to tell about it. And it's important that the story is well-told."
So thanks to Marcos, for coming in and talking to us -- and to my students for giving up their spare period today. Here's to telling stories well in words and pictures!