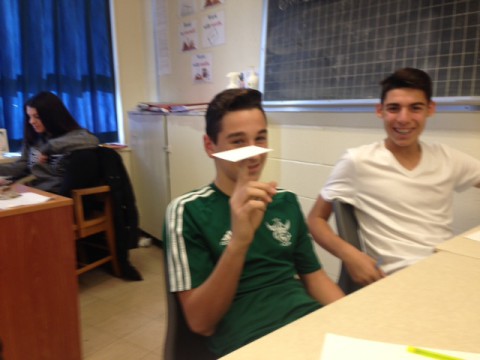 I don't want you to think that the students I spoke to this morning at Rosemere High School were NOT paying attention, but I could not resist taking this pic of a young man doing a cool trick with the bookmark I gave him! I might be able to write books, but I sure can't do that with a bookmark!!
So, I was at Rosemere High this morning to work with two of Miss Lawrence's Grade Eight English classes. There were also some extra students who got to come because they LOVE writing. Yay!
In addition to sharing every writing tip I know, I told the students a few stories. (I have a new one this week about how a long thin green leafy stick came out of my cat's nostril this weekend.) There was also time for a writing exercise and I asked the students' permission to share some of their work in today's blog entry.
Sara-Elizabeth wrote about the day she met her best friend. I love how she used sound to take us into her story: "I could hear her dad washing his car, her mom gardening, and her brother playing basketball." A student named Shanie wrote about having experienced trouble. I was impressed by the poetic quality of her words: "I could see good times disappearing.... It felt like someone had turned the sun off inside my house." Elisa had a brilliant title for her piece: "The Day I Realized I Could Never Trust Anyone Again." Hey, Elisa, I'd read that book for sure! And a student named Cedric showed me some work he had already done -- it comes from the prologue to his novel-in-progress. Here's my favourite line: "The dark empty room was so quiet, I could hear my tears dropping onto the ground."
So I'm supposed to go and inspire students, but when I look at my notes from today, and think about my morning at Rosemere, I realized they have INSPIRED ME!
If you've met me, you'll know I'm crazy about body language. Well, I collected a new example of body language today. A student named Lindsay tugged on her ear when she answered my question about whether there were any students in the class who like to play what I call "the what if game." That means they're always asking themselves "what if?" Lindsay says she's one of those people -- and I told her that will help her with her stories.
I also liked that a student named Raquela noticed there was a coffee stain in the diary entry I showed the class. Writers also need to be careful observers.
Okay, dear blog reader, I've got to zip out of here to go to my own class at Marianopolis College. Thanks to Mrs. Lawrence for the invite, and to the students for getting my week off to a happy, stimulating start!