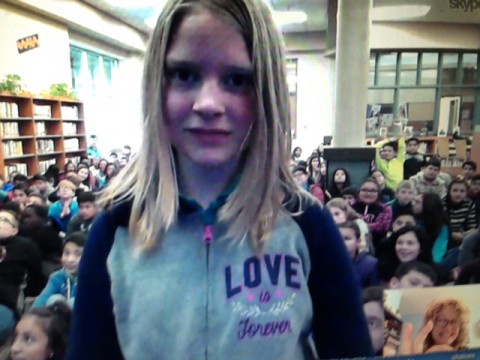 For the last few falls, I have been visiting Dumas, Texas. Not in person, mind you, but petty close to it. That's because I've been Skyping with the Grade Six students at Dumas Intermediate School. I've been invited to tell them a little about my life as a writer, but mostly the focus is on the Holocaust, and my novel, What World Is Left, which is based on my mum's experience in a Nazi concentration camp.
My mum was 12 -- the same age as some of the Grade Six students I worked with today -- when she was sent from Amsterdam to Theresienstadt, where she was imprisoned for nearly three years. I told the students that, when I was growing up, I had a difficult relationship with my mum. Things changed when I finally learned her story. I was the first person she told about her experience during the Holocaust. She had kept her story secret for more than sixty years.
In past years, my mum has been able to say hello on Skype to the students, but sadly, this year, she is quite ill in hospital. But if she's well enough tomorrow, I will read her this blog entry when I visit. Also, I chose the photo in today's blog entry for my mom. The student in the pic is named Faith and I love how her sweatshirt says, "Love is Forever."
I wanted the students to know something really important about my mom -- that despite the difficulties she went through as a teenager, that she emerged WHOLE, and that she had a great sense of humour. Also, I shared the message that, in past years, she shared with students in Dumas: that they must never give up hope. She told them that the Nazis were able to take away their food, their clothing and their homes, but NEVER THEIR HOPE. AND THAT THAT HOPE HELPED TO KEEP THEM ALIVE.
I did two presentations this morning, and there was time at the end of both for questions. I must say I was deeply moved by the students' sensitivity and intelligence. A student named Abram asked, "How does it feel to be in a concentration camp?" I answered by trying to put myself in my mother's place (the way I did when I wrote the book), and I told Abram that in my view, the main feeling would be injustice. If you're in prison for robbing a bank, well, that would make sense -- but my mother was imprisoned simply because she was Jewish -- and that's unjust. And a student named Josée (correct me Josée if there's only one 'e' in your name and I'll fix this entry) asked a beautiful question: "Was your heart broken when you learned your mother's story? And did you cry?" I told him the truth: that my heart was broken sometimes, but at other times, I felt privileged and even happy to be getting the story. THAT'S BECAUSE I'M A WRITER. We writers live for stories. And in my own way, I think I helped my mum by allowing her to finally tell her story -- and to get it out into the world so that others can learn, and be inspired by it. When I told all that to Josée, he said something super kind: "I'm so glad for you."
I asked one of the students, Nolan, in the second group to record a video message for my mum. He thanked her for sharing her story. Nolan, when I go back to the hospital tomorrow morning, and if she's well enough, I will play her your message.
Many many thanks to my friends at Dumas Intermediate for inviting me to visit again, especially to Cathy Craigmiles, who has become my friend over the years. And a special thanks, too, to the students for being such wonderful listeners and for asking such wise questions. Now get to work on your own stories! Make writing and reading your habits -- and interview the people who drive you crazy sometimes; find out what they went through when they were growing up. I look forward to reading YOUR stories.
A big hug for all of you from Monique