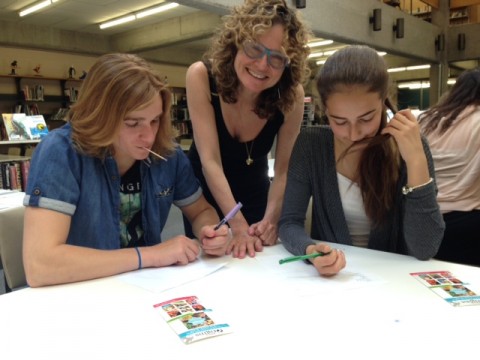 I got the idea for my new book, Leggings Revolt, a few years ago when I was visiting Mrs. Eva's class at Heritage Regional High School in St. Hubert -- and the kids told me that they'd protested their school dress code. Today, I was back at Heritage Regional working with two spirited groups of students.
The first group was Mr. Bakali's Grade Nine class. One of the things I talked about was how writers need to pay attention to small, but telling details. In the pic at the top of this post, I caught two students with interesting body language. Nick was chewing on a wooden stick. "It helps me concentrate," he explained. And I caught Alissa twisting her hair and chewing on it. (I asked them both to demonstrate their moves for my pic!)
During my time with both groups, I tried to pack in as many writing tips as possible -- and to give each group a writing exercise. On her way out of the library where I did my workshops, a student named Vanessa told me she is writing a book about teens who have superpowers. Sounds like fun! Vanessa also said that she learned some stuff from me. "I learned," she told me, "to ask more questions." I decided that was a very good thing to learn -- asking questions leads to information, and we need information to tell a good story!
I finished the afternoon with Mrs. Eva's Grade 11 creative writing class. These students write super well! A student named Sammy wanted to show me a story he had written for Mrs. Eva in which he took the point of view of a suicidal tree. I asked his permission to quote my favourite line: "I was the sole survivor of 200 trees."
A student named Justin and I debated the use of rhyme. I told him that to my ear, most rhyme sounds forced. I jokingly told him, "Kill the rhyming monster!" -- and that made me start thinking that a story with a rhyming monster in it would be cool!
So thanks to the students I met today for being so much fun, and thanks to my dear friend and master teacher Mrs. Eva for the invite. It's nearly dinner and I should be tired, but there's something about Heritage Regional that gets me energized and inspired!
Hey, here's a pic of me with Mrs. Eva's young writers!