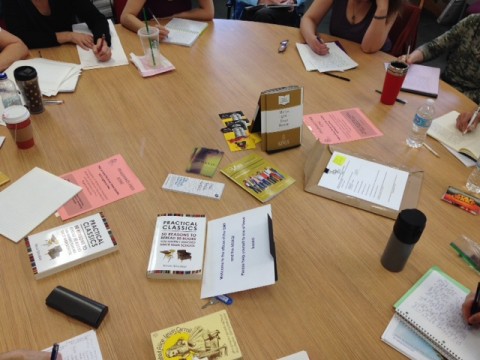 It was a perfect day in Montreal -- blue sky, T-shirt only kinda weather. So, basically, not the kind of day most Montrealers want to spend indoors. But the 12 people I hung out with today weren't most Montrealers -- they were writers, all at various stages of life and work, and they all showed up to take my Quebec Writers' Federation workshop called "Putting the Fun Back Into Wiriting!" -- which explains the title of today's blog entry.
Usually, I do a lot of yakking -- but today, the focus was really on writing. I did tell the group that for me, writing is a curious mix of work and play -- mostly work, and that I, too, occasionally need an injection of fun. In fact, sometimes my editor Sarah N. Harvey reminds me, "Go have fun with your story!"
As a writing teacher, I've collected fun exercises which I use when my students seem to be running out of steam, or just to change things up in the classroom. Well, today, I pulled out all those exercises. We played with the sounds of words; we did self-portraits using words; and we tapped into childhood memories. I think it's safe to say we had fun!
I believe the participants in today's workshop learned some new tricks, but they also seemed to get the sense that they were on the right track. As I told them, if they managed to stay focused on writing from 10 AM till 4 PM (minus our lunch break) on such a gorgeous day, well then, they HAVE TO BE WRITERS!! Deborah, one of the participants told us she'd thought she'd given up writing, but then, when we were discussing how we love notebooks, she pulled three notebooks (all of them written in!) out of her bag, and said, "I realize I've been writing all along."
Special thanks to my "students" -- Vivianne, Renee, Britt, Rita, Maureen, Jeff, Cynthia, Deborah, Anne (that's Anne Renaud, my friend and fellow kids' author), Timothy, Claire and Cathy; and to the Quebec Writers' Federation for offering the workshop. It was my first time doing it and I hope it's okay THAT I HAD A GREAT TIME TOO.
Here's to hard work and happy play! May we find the sweet spot between the two in our lives, and in our writing!