Oops, excuses-moi Hélène Blanchet, I keep slipping in French words when I speak to your étudiants... I just did it again!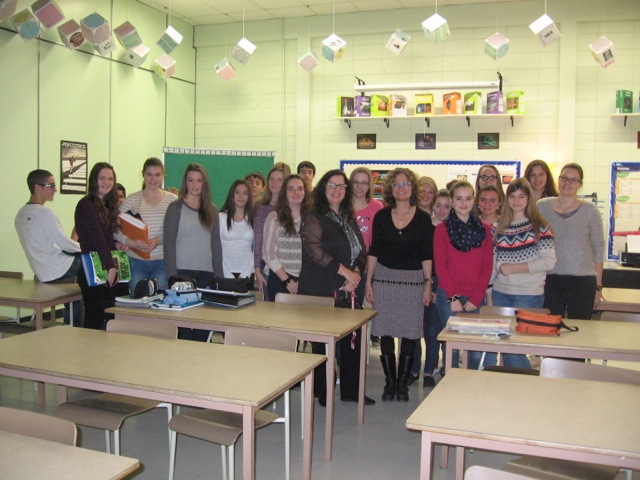 I'm at the train station in Quebec City, reporting in after a fun day with Hélène's three Sec. III enriched English classes at Ecole Sécondaire de la Seigneurie in Beauport, a cozy suburb just outside of Quebec City.
The students were great and I'm impressed with how bilingual they are. If you know me, you will know I'm a speedy talker and that I have a habit of telling a lot of stories... well, even though the students' first language is French, they seemed to have no trouble keeping up with me! I told them how I wish I was even more bilingual. (My spoken French is quite good, but I'd never dare to write an article or a story in French.) So, in this way, I am a little envious of the young people I worked with today!
We discussed many things about writing. I told one group how I was influenced by writer/illustrator David Small who advises writers to "Write about the things that keep you up at night" -- and I explained how those words spurred me on to write my latest novel, So Much It Hurts.
I also told the students about my interest in doing research and uncovering secrets. I explained that my historical novel, What World Is Left, is based on a sad chapter in my mum's life, events she kept secret for over 60 years. I asked the students to guess how I managed to find out my mum's story. A student named Marie-Laurence answered, "Maybe you found a book or a diary that she wrote." Though that isn't what happened, I was impressed with Marie-Laurence's answer -- it shows she has the mind of a writer. She was imagining an interesting story! Later, when I gave the students a writing exercise, Marie-Laurence got a little emotional. I told her that that's another sign she might be a writer. I shared a wonderful quote from American writer Ring Lardner: "How can you write if you can't cry?"
A student named Etienne also seems to have embarked on the writing life. Etienne has already written 70 (!!) pages of a novel -- in French. You know what I was thinking, Etienne? That it would be cool if someone (maybe you!) tried to write a BILINGUAL novel. What do you think?
Another interesting person I met today was Julie Bouchard. A graduate of Ecole Sécondaire de la Seigneurie, she is now doing her Ph.D. in linguistics at Texas A&M -- Commerce. Julie is doing research at her old high school -- taping students' conversations with each other in the classroom. If you ask me, she could probably write a novel with all that info!!
So, Hélène, thanks for inviting me back to your school -- but most of all, thanks for sharing your students with me. As you told your classes, writing is writing -- no matter what language we do it in.
A final word for Hélène's students: I'm finishing up this blog entry on the train... if it hadn't been for all of you, I might never have learned the story of the talking budgie. I'm already trying to figure out how I can find a way to include that bird in one of my books!! Remember what I told you: "Use it!" Bonne chance with your reading and your writing! Great to meet you all today!