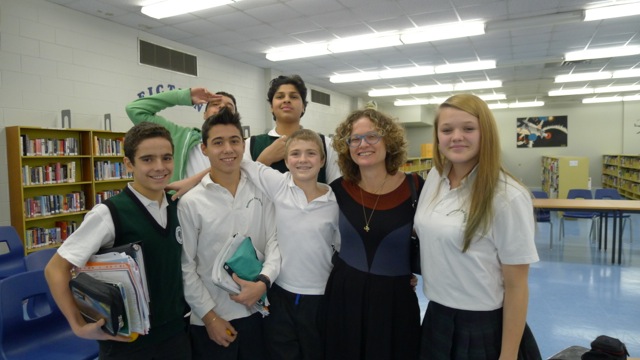 One day this fall, when I was walking into Riverdale High School, I heard a student tell his friend, "That's our writer." I must say it was one of my proudest moments EVER! This year, thanks to the Blue Metropolis Literary Foundation, I am writer-in-residence at Riverdale. I'm working with Miss Scott's Grade 9 English class on a project called Libres comme l'art: I write a story and the students give me input and feedback.
Yesterday was my sixth visit to the school ... and the PLOT THICKENS. Not only did I tell the students my latest real-life story (this one is about a budgie), I read them six new chapters of the story I am calling Hate Mail.
I don't want to give too much away, but I will tell you that the idea of using hate mail in the story came from one of my star pupils: Hamza. (He is the tall student at the back of today's pic. Not the one saluting -- that's Shayne. Hey Shayne, if you're reading this, let me know if there's a Y in your name, or if I got it confused with another star pupil!) The boy standing next to me in the pic -- Jarred -- also did some great research about airplanes, another element in the story.
We had a few special visitors at my session yesterday, William St-Hilaire, president of Blue Metropolis, came to meet the students -- and so did Frédérique Belair from Conférence Régionale des Elus de Montréal and Régane Bougé from the Conseil des Arts de Montréal, two agencies that have helped make this project possible.
But I haven't told you the best news of all. This little project I've been working on -- which includes the five chapters I read to the students yesterday -- it's going to be published as a book this coming fall by Orca Book Publishers.
You know how people say, "I couldn't have done it without you"? Well, in this case, it's really true. I may be the author of the book, but this one is a real team effort. Thanks to the organizations that are making it possible, thanks to Miss Scott and Suzannne Nesbitt from the Lester B. Pearson School Board, librarian Sue Strano, and principal Roger Rampsersad, but most of all, THANKS TO THE WONDERFUL STUDENTS. (And don't worry, you guys, I will call it basketball, not b-ball!)
Looking forward to seeing all of you in January -- and reading you the end of the first draft. I wish you happy holidays -- filled with interesting stories!!!