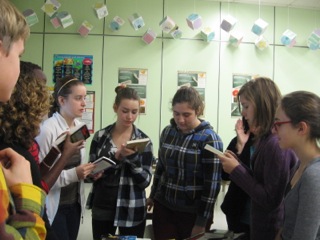 It's me, writing to you today from a little cafe on Rue Saint-Joseph in Quebec City. I spent the day at Ecole Secondaire de la Seigneurie in Beauport working with Madame Blanchet's Secondary III students. Must say it was a whirlwind kind of day -- but fun and stimulating!
I did what I usually do when I meet young writers -- told them about how I got started writing and shared some of my favourite tips (write a lot; read a lot; get ideas when you run or even in the shower; revise revise revise!). I also explained where I got the ideas for some of my novels. For instance, the inspiration for my latest book, Pyro, came from a radio interview I heard several years ago -- the mayor of a town outside Quebec City was talking about a spate of fires in his community and he said how much he wanted to catch whomever was starting those fires. Which got me thinking: WHAT IF HIS OWN SON WAS THE FIRESTARTER?!! And that is basically how Pyro was born... of course, a lot of hard work followed that moment of inspiration. Which was another thing I talked about today -- how writing is basically a lot of hard work, but that it's satisfying and that, for me, the challenge is what brings me back every morning to the computer screen.
I asked the students to write about a memory of being ten years old. Though they only had about 15 minutes for the exercise, I must say I was impressed by their work -- especially considering they were writing in their second language. I asked two of the students for permission to share their opening lines with you in today's blog entry... so here they come:
Tommy began his memory of a day at the hockey rink like this: "I touched his head to see if he was okay." Dominique wrote: "I had a big egg in my hand." Now, what do you think? Don't you want to keep reading those stories? That, mes amis, is the trick to writing. Every sentence has to make your reader want to keep reading.
I'm off now to catch the train home to Montreal. Thanks, Madame Blanchet, for inviting me. And thanks to your students for working so hard!