When I was a little girl, my dad volunteered with an organization called The Lion's Club. At Christmas, the club raised money by selling fruitcakes. I remember going with my dad to the local shopping center and asking strangers to buy fruitcake! (It was quite embarrassing!)
I've started today's blog entry with this story because it turns out the skills I learned selling fruitcakes have come in handy in my career as an author!
This morning, when I was sitting at the signing booth for Courte Echelle, the French-language publisher of two of my books, I basically had to talk to strangers. At least, I did not have to talk them into buying fruitcake!
Luckily, I love meeting new people and I'm not at all shy. So I went right over to people I saw (especially ones who were looking at my two French titles, Poupée and Pris Au Jeu) and said, "Hello, I'm the author of those books!"
So, in today's entry, I'm going to tell you a little about some of the people I met. They included Charles-Vincent Chevalier (that's him next to me int he pic) and Mathieu Vinuesa (wearing the dark scarf), who both work at Centre Gabrielle-Roy, an adult education facility in St. Michel.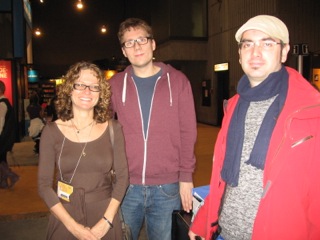 Vinuesa, a teacher at the school, explained that some of his students are just learning to read; others are reading proficiently at the Secondary V level. Chevalier is the school's library technician. He described the kind of books his students need: "We like books that deal with contemporary problems." We chatted about why books are important. Chevalier thinks that by reading, the students at his school can learn to communicate more effectively. Vinuesa added something I really liked. He said, "Books can help readers learn how to live."
I also met Laurence Demers and Angélica Stergiopoulos, who are both 15 and students at Ecole Augustin-Morin in Ste. Adele.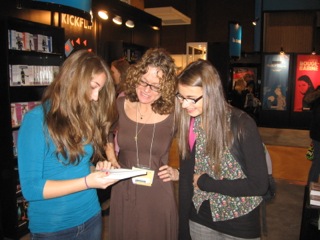 The girls (that's them in the 2nd pic) have been friends since last year and both of them love to read. As Stergiopoulos put it, "Reading lets us enter into another universe and discover other stories."
I was signing a copy of Pris Au Jeu for Frédéric Bricault (he's 15 and goes to College Esther-Blondin near Joliette) and because I didn't want to make a mistake when I got to the French part of my inscription, I asked Bricault to proofread!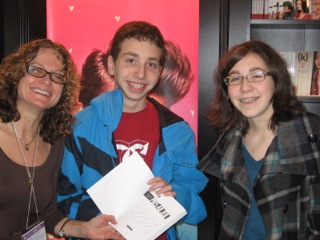 Bricault told me he is interested in books and movies about gambling; the psychology of people who gamble fascinates him. Here's what I wrote inside his book: "Hope you like my book. J'espere que tu trouveras un bon angle pyschologique!"
As I was packing to go back to school, another author turned up to sign books. It was Charles Prémont, author of a fantasy trilogy that starts with Le Fils du Singe and concludes with Le Fils des Dieux. Prémont, who is also an anthropologist and journalist, told me he is currently at work on a new series set in outer space. I asked Prémont the question I always ask authors -- what advice does he have for aspiring authors? Here's his answer: "Keep on going! It's hard to break in. The first one is the hardest to write."
So, that'll be our motto for today: Keep on going! Here's hoping more of my books gets translated into French. How else can I get myself invited back to Salon du Livre next year?!