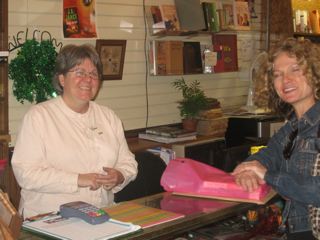 Another Arizona town we visited last week was Prescott. Though we didn't make it to the local library, we did find The Worm, a bookstore that carries both secondhand and new books. Because I had just finished reading The Hunger Games (more on that wonderful book later this week), I was in desperate need of something to read. I don't know about you, but I just can't manage withouta book to read.
Anyway, the thing I find about secondhand bookstores is that somehow, you always find exactly what you were looking for, even if you didn't know you were looking for it!! In my case, there I was poking through the sale bin when I came across Canadian novelist Carol Shields's The Stone Diaries. I've always wanted to read this book, which won the 1995 Pulitzer Prize. Also, this winter, I heard an old interview with Carol Shields on CBC -- she died, tragically, of breast cancer. During the interview, she read a section from the end of the The Stone Diaries: a list of things Daisy Flett, the novel's protagonist, never experienced in her life. I got a little choked up listening to Shields read. Here's an excerpt from that part of the book: "though she knew she had been loved in her life, [never] did she hear the words 'I love you, Daisy' uttered aloud (such a simple phrase), and only during the long, thin, uneventful sleep that preceded her death did she have the wit (and leisure) to ponder the injustice of this." Does that line move you, too? For me, it's a reminder that we have to let the people we care for know what they mean to us. That's what novelists can do -- remind us of what's important, of what matters.
So, should you find yourself in Prescott, Arizona, wandering down South Montezuma Street, stop in at The Worm. Say hi to Julie McCurdy, who was minding the cash the day we visited. Here's a picture of Julie -- so you'll be sure to recognize her!