I wrote my last blog entry from the Flagstaff City--Coconino County Public Library in Arizona. At that point, I had just finished using one of the library computers and was heading over to the children's section. To think, I've left you in suspense for five whole days! Well here's what happened next...
I ended up having a lively chat with Gail Reed, the children's librarian. Gail remembered reading about my latest book, What World Is Left; in particular she remembered how the main character has to deal with the fact that her father is producing propaganda art for the Nazis.
It was mid-morning and so the library's teen readers were at school. That gave us a bit of time to discuss our favourite subject -- BOOKS! Gail had also enjoyed What I Saw and How I Lied and I told her I was reading -- and lapping up -- Suzanne Collins's The Hunger Games. Gail checked to see whether this book was in her collection, and it was. (I think Gail is going to read it now, too.) Gail also told me she enjoys sci-fi and fantasy, especially books by Garth Nix and Robin McKinley.
I didn't have my camera with me, so I went back to the car for it... only when I returned, Gail had disappeared from behind the reference desk. I found her in the stacks, talking books again... only this time with a sweet seven-year-old named Savannah. Check out this pic of Gail and Savannah, and that's Savannah's mum and baby sister in the far right.
Of course, I had to interview Savannah, too. I asked what she liked best about coming to the library. Her answer would have pleased the most hard-hearted writer: "I like fiction books and science books," she told me. So in today's blog entry, I want to say WAY TO GO to librarians (especially children's librarians) who help turn us on to books, to moms (amd dads) who bring their kids to the library, and to the next generation of readers like Savannah.
P.S.: Gail ordered a copy of What World Is Left for her library. Maybe next time I'm in Flagstaff, I'll get to meet some of her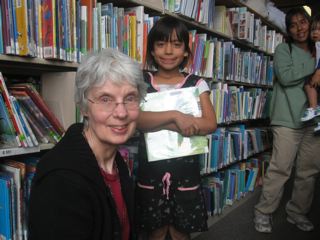 teen readers!