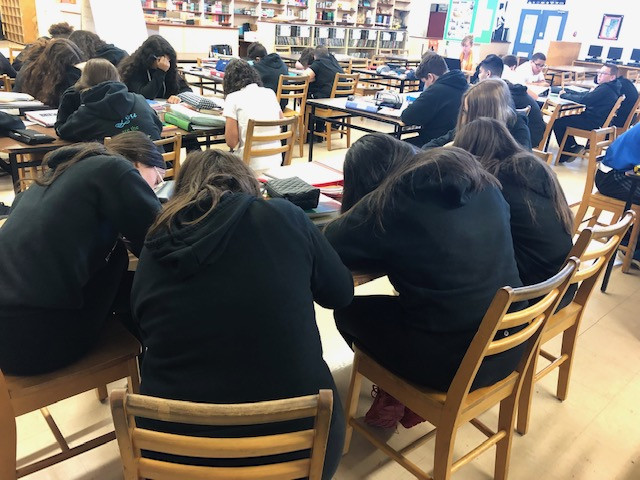 I'm just home from a second day of writing workshops at Laval Junior Academy. I worked with Ms. MIlea's Secondary 2 students and Ms. Farrell's Sec 1's.
I have lots of fun details to share with you today. Hey, one of my writing lessons is that DETAILS matter. We writers need to collect interesting details to make our stories come alive. So here we go....
If you know me, you know I am obsessed with body language (read yesterday's blog for more on that topic). Today I met a student named Matteo who has interesting body language. He knocks his knees together when he's thinking. I coud tell I made him think a lot because he was doing a lot of knee-knocking. You know, Matteo, I may give that trait to one of the characters in my new book project!
A student named Pravin (I added his name to my list of cool names, which I also keep handy for book projects) said stories need "feelings and actions." Great comment, Pravin!
And a student named Antonio asked, "Why do we always need trouble in stories?" (Trouble is one of my favourite subjects.) I told Antonio it's because life is full of trouble, and by reading stories we can learn how to hang on when times get difficult. I also shared my view that trouble is like gasoline (or electricity); it helps move a story forward.
During the writing exercise portion of my workshops, a student named Husain wrote about a memory from when he was growing up in Pakistan. Husain gave me permission to quote him here: "I saw a man with a dagger and he held the dagger to a cow's neck. Afterwards, there was blood everywhere for a week." Great use of details, don't you agree? Husain, keep working on that story -- and show it to me when I'm back at your school in October.
Massimo wrote about his memory of being in Grade Five, and the teacher "handing me a test that I failed." That's another story worth telling, Massimo. A different Massimo described how a "soccer field became a wrestling ring" when a fight broke out. Nicely put, Massimo -- I want to read that story too. And I'll end today's blog entry with a beautiful line that a student named Amanda allowed me to share with you: "I was sitting in a bathroom thinking, 'Will I ever be good enough?'" How's that for the first line of a novel?!
If it sounds like I am excited about today's visit to LJA, it's because I am. I've included a pic of LJA young writers writing. Nothing makes me happier! Write on, kids -- and see you in October. Thanks to the students, their teachers Ms. Milea and Ms. Farrell (who joined me on an early morning run!), and to super librarian, Ms. Venditti!