I'm just home from a happy morning at Centennial Academy, where I worked with four groups of fun, inquisitive students. I know they're inquisitive because they never ran out of questions!
Here's a picture of some of the students doing a writing exercise!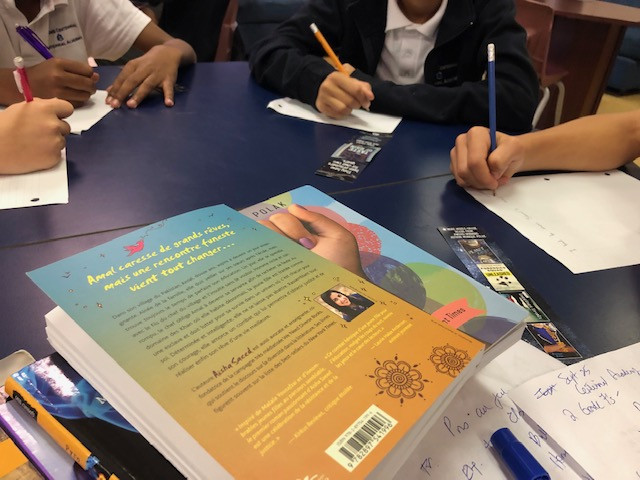 Centennial Academy is a private school where many of the students have learning challenges -- but I must say that every time I work with them they fill my heart. If you ask me, we all have learning challenges, and we're all unique. In fact, as a writer that's exactly what I try to do in my stories -- come up with unique characters with their own traits, idiosyncracies, strengths and weaknesses.
So let me tell you about some of the highlights of this morning's visit.
I loved when a student named Idam (hey, did I get the spelling right, Idam? if not, send me a note in the comment section and I'll correct it) told me, "I skipped to the end of your book Finding Elmo because I was dying to know what happened!" Though I generally disapprove of skipping to the end of a book, I am happy that Idam was that interested in knowing the ending!!
I loved the following exchange between Nate and Noah after I suggested they interview old people to learn their secrets: Nate said, "I don't like old people. They're too strict." To which Noah replied, "Some old people are kind and give you money." Later, Alex added that old people tell young people stuff because, "they want young people to learn for when they're older." Lovely lovely insight, Alex!
I loved when, during a writing exercise, Oksana wrote movingly about her grandfather's death. She wrote, "It was very hard to let him go." I found that line sooo beautiful and honest.
I loved when a student named McRelis (cool name!) told me that she publishes stories on Wattpad: "I focus on problems in society and I like to include LGBTQ characters." Way to go, McRelis! Good for you for being as inclusive as possible in your stories!
I loved, when I was discussing how important it is to read, a student named Zia told me, "I always read to my little sister." You know what, Zia? I predict that that little sister of yours is going to be a good reader, and also a good writer one day!
And I loved when a student told me he has a youtube channel called kinglightningdragon where he posts his own videos.
If it sounds like I'm happy, it's because I am. I'll be back at Centennial tomorrow. Stay tuned! Special thanks to the kids for being amazing, and to your teachers Ms. Byron, Ms. Bennett, Ms. Grimaud, Ms. Marquise and Ms. McNaughton for sharing you with me!