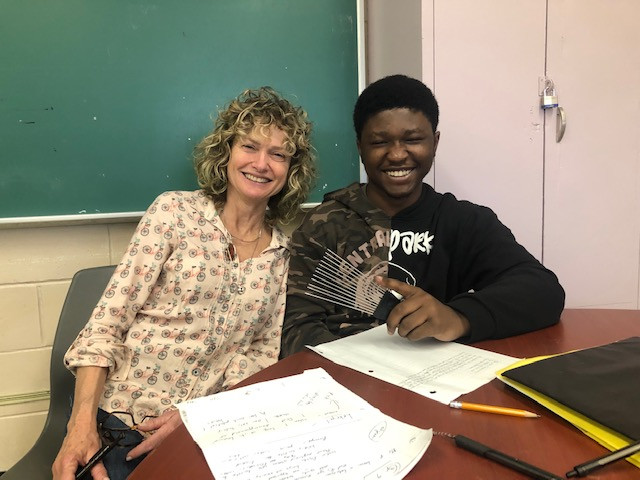 In this morning's writing workshop at Laval Senior Academy, I invented a new exercise! It just happened on the spot -- and I THINK IT WORKED. I was telling the story of my monkey man charm to Ms. Gosdanian's Grade 10 class (if you know me, you know that the monkey man inspired by latest book, The Brass Charm), when I asked the kids to write about a treasured object. I asked them to write about what the object looks like, how they got the object, and what the object means to them.
In today's pic, I am sitting with Lekeyel. Lekeyel wrote a beautiful piece about his sketch book. But his friends in class teased him, saying, "Are you going to write about your brush?" Which led me to learn that Lekeyel always keeps his hair pick close by -- and ke kindly agreed to pose with it -- and me -- in today's pic. Thanks for being a good sport, Lekeyel! I loved Lekeyel's honesty, which was apparent when he wrote: "When I look at my sketch book, I feel disappointed at where I am now, thinking of how much potential I have." The students are supposed to write a memoir essay for their next assignment, and I suggested to Lekeyel that he might write about the role of his sketch book in his life -- how he used to sketch a lot, and how lately, he has stopped. Get sketching again, Lekeyel!
A student named Vanessa shared an amazing story that I also hope she'll develop in her memoir assignment. Her treasured objects are the casts she keeps in her closet. Last year, Vanessa was seriously injured in a ski accident, and she continues to do physio for her injuries. Recovering from that accident must have taken great courage -- she was hospitalized for a month and missed a lot of school -- but as I told her, writing about the experience will also require courage. I sense that you can do it, Vanessa!
Enzo wrote about his Sherwood hockey stick: "I got it when I started playing hockey." Christina wrote about a bracelet her mom gave her when Christina was a baby: "I'm really sad becaue it doesn't fit anymore."
What all these bits of writing have in common is that they come from the students' hearts and lived experience. That makes good memoir material.
I'm writing today's blog from the Carrefour Laval, where I came to get a quick coffee before I meet with Ms. Lambropoulos's class. It's my third day of workshops at Laval Senior Academy and I'm starting to feel at home there. Hey, I even met the principal Ms. Rollin -- even at 62 years old, I'm still a little nervous around principals! So I laughed when Ms. Rollin told me she feels a little nervous around authors! It's amazing how a humorous moment can bring people together.
Thanks to everyone at LJA. I'll be back next Monday for my last day of wriitng workshops. Students, get some work ready for me to take a look at!