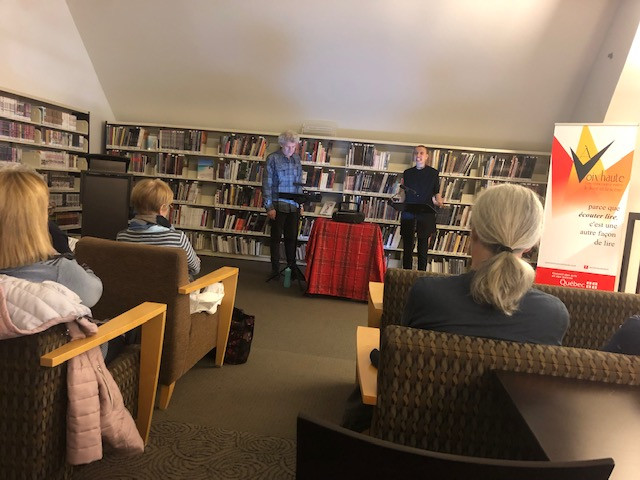 I can't fully explain why, but I've always adored READING OUT LOUD. Or, as we say in French, la lecture "à voix haute." When I was a little girl, already in love with stories and writing, I used to read out loud from books, and when I worked on my own stories, I'd test them out by reading them out loud too. Even so many years later, I still stop after I've written a few paragraphs and read my work out loud. Somehow, hearing the words out loud brings the text alive in new ways, and I often make important revisions during this phase. When I was a a teacher, I always advised my students to read their work out loud before handing it in.
Which brings me to today's picture and "A Voix Haute," an amazing Quebec literary project in which actors read parts of a book out loud. The bilingual program is the brainchild of Quebec author, my friend, Governor General's Prize winner Linda Amyot. And last night, actors Elisabeth Tremblay and Pascal Parent were at Bibliothèque Rina Lasnier in Jolieette reading from Vois tout ce qu'il te reste (Septentrion), Rachel Martinez's 2022 French translation of my historical novel What World Is Left.
I've read that book aloud several times -- both in English and French (Rachel is another Goivernor General's Prize winner -- you will think I only hang out with people who've won this prize!!). Yet, hearing parts of the book read by Elisabeth and Pascal was... looking for the right word here... an incredible gift. Also, they didn't just read -- they embodied the characters.
The drive to Joliette wasn't easy -- it was raining, and I'm a slow driver, so several truckers honked at me and made rude gestures! But when I listened to my story being performed A Voix Haute -- let's just say I forgot all about those truckers. My heart could not have felt more full.
After the performance, Linda and I did a mini-conference. I was able to share with the audience the story behind the book -- how it was based on my mother's experience as a young teenager in Theresienstadt, a Nazi concentration camp -- and how my mother did not share her story for more than sixty years. I urged the audience to uncover and write about secrets too.
My boyfriend wasn't able to be there (he's have driven if he'd come!! haha!!) because he had a work dinner downtown. But this morning when I was telling him about last night's event, I said, "I don't think I've ever felt prouder to be a writer."
I am very moved that so many people from Joliette came out on a rainy night, and that they are interested in learning about the Holocaust. I even met Elisabeth's parents Robert and Claire. Special thanks to everyone who attended, and to Elisabeth and Pascal for their beautiful, thoughtful, touching performance. Thanks to librarian Nadine for making us all feel welcome at your beautiful library. And thanks, especially, to Linda Amyot for bringing stories to all of us through A Voix Haute!
Here's a pic we took at the end of the evening.... I think you can tell that we all had an amazing night. Pascal and Elisabeth are at the top right. Linda is in red next to me. Nadine is at the front right.
A la prochaine!