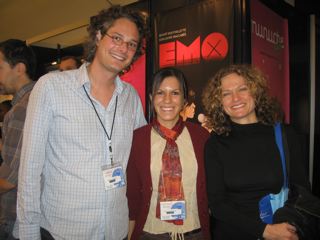 Hey, those people in today's pic don't go to Beurling Academy!! Sorry for confusing you, dear blog readers. Those are two interesting people I met last night at Salon du Livre here in Montreal. But I'll tell you about that in the second half of today's blog entry. First, you probably want to know how Day Three at Beurling went.
The answer is: very well. Even those students who were less than focused yesterday were on track today. Usually, when I do school visits, I only spend a day working at a school, so having three days at Beurling really gave me the feeling I miss most about having my own class: a real sense of connection.
This morning, I worked with two Ethics classes, as well as an English and Creative Writing class. For the ethics discussion, I focused on my novel What World Is Left which I hope raises some important ethical questions like: What are we willing to do to stay alive? Is anyone perfectly good or perfectly evil?
And I'm still pondering the issue that Tamara raised on my first day at Beurling: Is it somehow selfish of us to want to hear other people's stories, especially their painful private stories? It's a great question and one that would probably take way more than a book to answer. I do think, though, that people have a need to share their stories (even the painful private ones) and that listening to these stories, with respect and an open heart, is a kind of gift we can give to others. And of course, their stories are a gift to us.
So thanks to all of you at Beurling Academy for making me feel so welcome. Thanks to the students, to Miss Debi and to librarian Helene Bourguigon. You guys are amazing!
Now I want to tell you a little about last night's visit to Salon du Livre. I was invited by the publishing company Courte Echelle, which is bringing out my novel On the Game in French in February. Merveilleux, n'est-ce-pas?! I found out exciting news -- that the French title of the book will be Poupée. And though I didn't know anyone in the room, I resisted my urge to flee (you see -- even naturally outgoing people like me sometimes get shy!!), and met some really fun people. In the pic at the top of today' blog entry, you, too, can meet illustrator Guillaume Maccabée and translator Amy-Lou Lafontaine. Guillaume is the illustrator of the popular Emo series. Amy-Lou's most recent translation is of the novel Mammouth Académie, tome 4.
And because I'm naturally curious (and always thinking of you, dear blog readers), I asked Guillaume a little about how he works. He told me that before he starts to draw, he takes deep breaths. "It opens a channel in me," he said. He also told me that he thinks, "a word is worth a thousand pictures!" ... Guillaume, if you're reading this, you will be pleased to know that this morning when I worked with the Creative Writing class at Beurling, I had them do some deep breathing before their writing exercise. Hopefully, your trick helped open up their channels, too!