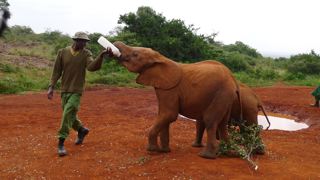 Well, blog readers, you'll think I'm quite the world traveler!
On Sunday morning, I was at The Sheldrick Wildlife Trust, an elephant orphanage in Nairobi, Kenya. On Monday, I was having coffee and a croissant in Amsterdam. And yesterday, I was back in Montreal, doing a presentation at the Association of Jewish Libraries' annual convention.
In today's blog entry, I want to tell you about elephants (meet one of them and his human companion in today's pic!) and also about the AJL convention.
Okay, elephants first! You know the expression "Elephants never forget"? Well it turns out that it's based on something true -- elephants have really good memories. At the Trust, I learned that if you blow into an elephant's trunk, he will remember your smell for the next 20 years. Now I'm not exactly the sort of person who goes around blowing into elephants' trunks... but while I was standing at the gate, watching the elephants, one of them kind of wrapped his trunk around a post and I BLEW INTO IT. (This was one of the many highlights of my holiday.) It makes me happy to know that a Kenyan elephant will remember me when I'm 71!
Now, onto the topic of the AJL Convention. I had a wonderful happy time, I think because I got to hang out with librarians and writers -- and also because I got the chance to discuss my book What World Is Left. As I told people in the audience, that book has my heart in it!
My talk was preceded by a discussion of Jewish books for tweens and teens. The presenters were authors Margie Gelbwasser and Sarah Darer Littman. (That's Sarah to the left of me in today's pic.)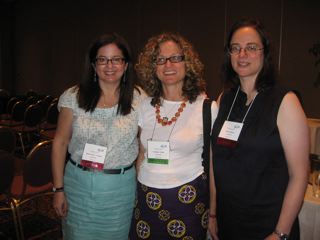 Sarah's latest book, Life, After, is about a girl whose dad died in the 9/11 attacks. Margie, who was born in the former Soviet Union, is the author of Inconvenient, a book about a Russian-Jewish teenager.
To the right of me in today's pic is Susan Lynn Meyer, who turned out to be a kindred spirit. Susan's book Black Radishes is also based on a family story related to the Holocaust. And like me, Susan teaches English literature full-time (she's at Wellesley) and has one daughter.
I also had the opportunity to catch up with one of my favourite YA authors Sarah Mlynowski, who was in town to promote her newest book, Ten Things We Did (And Probably Shouldn't Have). Sarah was my student at Marianopolis College here in Montreal! She also babysat my daughter. Since the last time I saw her, Sarah has had a daughter of her own, so we had lots of catching up to do!
So special thanks to the AJL for inviting me to this year's convention. I hope to remain in contact with some of the people I met there!