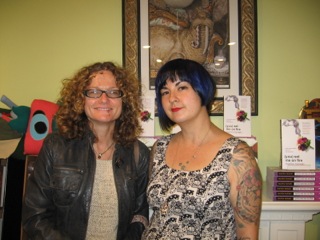 I'm just back from a wonderful talk by Mariko Tamaki, who's in town to promote her YA novel, (you) set me on fire.
Tamaki spoke at Babar Books in Pointe-Claire. Her talk was sponsored by the Montreal Children's Literature Roundtable. I didn't want to miss it because I am discussing Tamaki's novel on radio (for Rad-Can's plus qu'on est fous, plus qu'on lit! on November 21st).
Tamaki divides her time between the Bay area in San Francisco and Toronto. She is best known for her graphic novel Skim (illustrated by her cousin Jillian Tamaki), which was shortlisted for the Governor General's Award.
Tamaki told us that when she was a teenager, she was a "bookish nerd." She read everything she could find by Canadian writers Margaret Laurence, Timothy Findlay and Alice Munro. But she said she was also influenced by comedians like Roseanne, Bill Cosby and Eddie Murphy. Here's what she had to say about Eddie Murphy: "I think he's a homophobe, but he's also an amazing storyteller."
(you) set me on fire is set at a college residence in an unnamed American city, but Tamaki, who studied at McGill University and lived in residence there, says the book is based on her experiences here in Montreal. Her protagonist, Allison, is 17, and like Tamaki, she's queer. In the story, Allison gets caught up with a friend named Shar, who turns out to be bossy, even cruel.
Tamaki says that as a writer, she has a "continued obsession with teenage girls." In Tamaki's novel, Allison stands by while Shar mistreats another girl who lives in their residence. Tamaki told us, "I am interested in the offense of non-action .... [on the part of] the person who is there and a part of something."
Tamaki told us that working on a graphic novel taught her a lot about how to write. "I'm a better editor because of comic books. In comic books, there's very little room for words."
What fascinates me most about Tamaki and her work is that she is pushing the boundaries of YA fiction. She explained that in Skim, she wanted to explore "the things you can and cannot say."
I've already read (you) set me on fire. I found it difficult and disturbing, but powerful. Tonight, I bought a copy of Skim, which I plan to start reading in a few minutes.
This must be my week for fiery things. First, I got to meet the author of (you) set me on fire. On Sunday afternoon, I launch my own book Pyro at the Fireman's Museum here in Montreal. If you're in town, consider yourself invited!