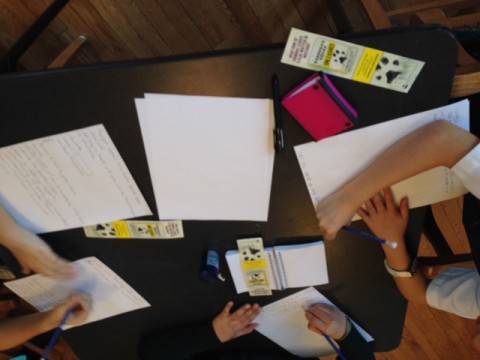 If you follow the clues in today's pic, you'll be able to figure out that I was doing another detective-story-writing workshop this morning. The event was also part of the Blue Metropolis Children's Festival and it took place at Westmount Library.
I was lucky to work with a lively group of Grade Five students from Miss Edgar's and Miss Cramp's School, as well as three visiting students from other neighbourhood schools. The ECS students were there with their teacher Miss Casement, their student teacher Madison Seller, and the school librarian Rennie Macleod.
I tried to tell the students everything I wish someone had told me about writing when I was their age -- mainly that writing is usually hard and often frustrating, and that that's why I like it so much. I guess I enjoy doing difficult things. I also told them to make writing a habit, even if they don't plan to become professional writers. When I asked how many students were interested in writing as a career, a whopping nine of them put up their hands. (Way to go, gang!)
I made sure to leave time for two detective-story-writing exercises. I got the students to imagine an unusual detective and then to come up with a cool crime scene. I also suggested that their detectives should have a backstories that might help explain why they became detectives in the first place. A student named Gunes had a great backstory for her detective: "She killed someone two years ago when she was mentally ill." You know what, Gunes? I'd read your book!
A student named Brianna came up with a great idea for a detective -- a fat butcher. Jade's detective was an undercover pastry chef. I told Jade that I thought "Undercover Pastry Chef" would make a great book title. And a student named Angel imagined a detective who is "the second daughter in a family of spies and robbers." Great ideas, don't you agree?
When we talked about crime scene investigation, a student named Megan knew that all ten of our fingerprints are different. (I never knew that until I started doing the research for Forensics Squad Unleashed). "My dad used to be a scientist and he told me that," Jade explained.
I was impressed that a student named Aneesa knew that the secret of writing is REWRITING! I liked how the ECS girls, Angelique in particular, raised their hands in a confident excited way. (I told the students that both writers and detectives need to be observant and that taking notes is a big part of both jobs.) A student named Alana asked, "Does diary writing count?" I told Alanna that every kind of writing counts. The more we write, the better we get -- and I suggested she might try writing her detective story in the form of a diary.
And then, there was a student named Serena -- whose name I am thinking of using in my next book!
Thanks to the students for working so hard and listening so attentively. Thanks to Blue Met for arranging the event, and to Westmount Library's children's librarian Wendy Wayling for organizing today's visit. What a great way to start this Thursday!