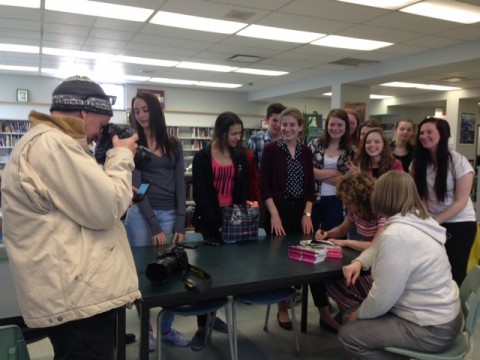 I'm just home from a super special celebration at St. Thomas High School in Pointe-Claire. Today's pic was taken at the school library. I was there to deliver 20 copies of my novel, Leggings Revolt, to the 20 Grade 10 students who helped me when I was reearching and writing the book. And sitting next to me in the grey sweatshirt is Mrs. Pye, the librarian to whom the book is dedicated!
I signed all 20 copies of course. In some I wrote, "I couldn't have written this book without you!" -- which is totally true. The idea for Leggings Revolt came a few years ago when I was visiting Heritage Regional High School and working with my friend Mrs. Eva's students. They told me that students at their school had organized a protest after they were forbidden to wear leggings. I was still thinking about that a year-and-a-half ago, when I was doing writing workshops with at St. Thomas. I told the St. Thomas students that I was toying with the idea of writing a novel about an unfair dress code and several of them agreed to drop by during their lunch hour to share their thoughts on the subject. That first lunch meeting was so successful that I came back several more times to have lunch and pick the brains of what became an informal focus group.
I like to think the students learned as much as I did -- and I learned a lot! They were pretty excited today when I gave them their copies of the book they had helped me write. (They were also pretty excited about the cupcakes that Mrs. Pye supplied!) As Brianna Losinger-Ross told me, "I would like to write professionally, so it was fun seeing it in real life and not just seeing videos or reading about the writing process." Averie Tucker added that, "It was cool to be able to pitch in ideas and help."
While we were feasting on cupcakes, I took the opportunity to talk to the students about the NEW project that I started this week. You will not be surprised to hear that they had LOADS of great ideas. Something tells me I'll be back at St. Thomas some lunch time soon. Huge thanks to all my friends at the school; to Mr. Abracen, the wonderful, supportive principal at St. Thomas; and to librarian extraordinaire, Mrs. Pye.
And... if you're wondering about the man with the camera -- he's from the Montreal Gazette. The newspaper's West Island section will be running a little story soon about how the students at St. Thomas helped me write Leggings Revolt!