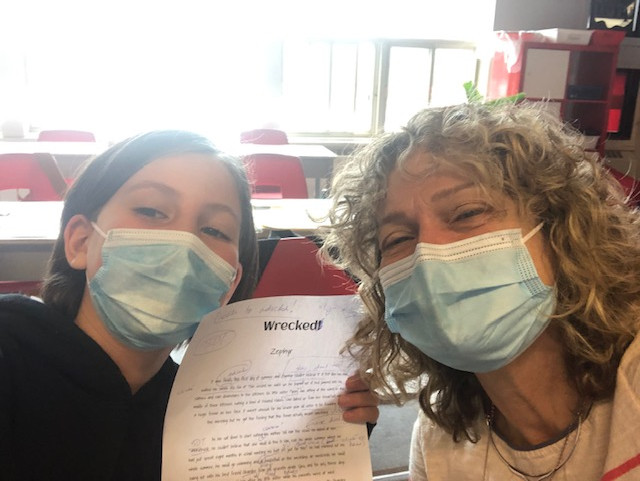 It's lunch time at Mount Pleasant Elementary School and I'm getting an early start on today's blog entry.
Today is the last of my three visits to work with Grades Five and Six classes at Mount Pleasant. The plan was for the students to share the stories they've been working on, and for me to give them some feedback.
During my last visit, I suggested some story prompts, such as writing about a moment that changed the students' lives, or interviewing an older person to find out what the hardest thing they ever lived through was – and how they got through it.
Abigail, one of Ms. Malone's Grade Six students, was the first to share her work. She'd written a story about her uncle who has a metal rod in his back. Abigail began her story with the line, "He was my mom's uncle and now he's my uncle." I told Abigail that what I liked about that line is the voice. I can hear Abigail speaking, can't you? Abigail described how challenging it is for her uncle to go out in winter because "the metal in his back freezes." She also explained about the accident that nearly killed him – and which led to her uncle having the metal rod in his back. Abigail ended her story with the lines: "I'm so glad that he is not dead. I wouldn't be able to know him." Again, that lets me hear Abigail's voice – and sense her love for her uncle. I asked whether Abigail had shared the story with her uncle, and when she told me she hadn't, I suggested she send it to him for Valentine's Day, which just so happens to be coming up next week!
I've been back and forth all morning between Ms. Malone's Grade Six classroom and Madame Sarah's Grade Five room… only Madame Sarah is away, and Ms. Jennifer is substituting. In both classes, I've put a list of pointers on the board, such as that stories need details (but not too many, just the right amount, and always interesting ones!!), that dialogue adds life to a story, and that adverbs are generally (hey, generally is an adverb!!) a waste of words! Reread my last sentence and you will agree that I could have skipped "generally." See!
At recess, I worked one-on-one with Annie, one of Ms. Malone's Grade Sixes. Hey, that's Annie in today's pic. Annie is hard at work on what looks like a promising book. She is calling it "Wrecked" and it's set at a sailing camp. Annie is great at coming up with names. So far, I have "met" her characters Zephyr, Poppy and Oleader! I told you Annie was great at coming up with the names! In the opening paragraph, the narrator walks in on his little sister (Poppy) frowning. Then Annie writes, "he got the feeling that this frown actually meant something." Sooo original, sooo good, Annie! I also noted that Annie was open to my edits. She even smiled when I made suggestions! Yay you, Annie!
After recess, one of Madame Sarah's students, Anya, read a beautiful piece called "The Flickering Candle." Anya managed to read her story despite the fact that she has a mild case of stage fright. Way to go, Anya! This was my favourite line: "Maya was turning ten. That was her family's lucky number." I just love that a family has a lucky number. Dee-light-ful!
Ms. Malone's second Grade Six group had prepared a lot of writing to share with me. Beatrice won my prize for best opening line of the day. Here's how Beatrice started her story: "I was dreading the moment when I would have to let go of Mom's hand." That one line drew me into Beatrice's story, and already let me learn important things about her narrator. Lauren and Katie both wrote about getting their puppies from the same breeder. Later, they told us the pups are sisters. That prompted me to suggest they co-author a story about two friends who have pups that are sisters. What if the friends have a fight, and the pup sisters bring them back together? A student named Phoenix suggested it might be cool to tell the story from the pups' points of view. Excellent idea, Phoenix! Get to it, Lauren and Katie!
Later a student named Greta read us a lovely story about moving to a new home. She included this gorgeous line: "watching the blurry images of our future home come into view." I can just feel it!
I ended my day at Mlount Pleasant with Miss Sarah's group -- a rather lively bunch! Jasmine and Liv asked if I'd ever written a romance. Claire wanted to know if I'd ever written a horror story. Leia wanted to know if I'd ever written a sad story. Guess what I told them??!! That THEY should write all those stories!!
See why I called this blog entry Fruitful Friday at Mount Pleasant Elementary School? Thanks to the teachers for sharing your students with me; thanks to librarian Ms. Hausen for arranging my visits, and thanks to ELAN's ArtistsInspire grants for making the visits possible. Most of all, thanks to the students for being fun and for working so hard on your writing! Stay wonderful always!!