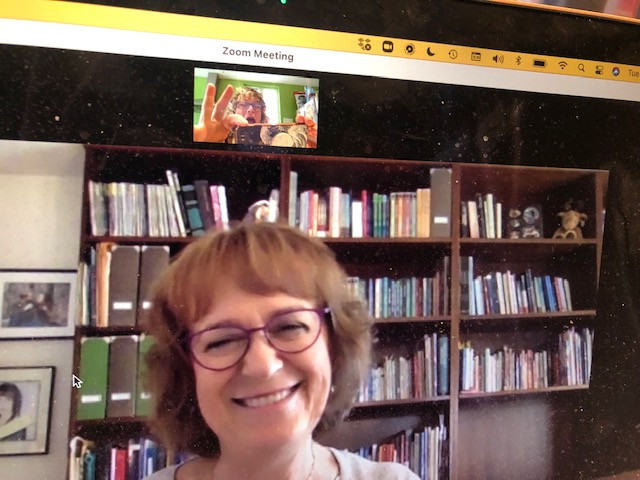 That's Canadian kid-lit star Kathy Kacer in today's pic (and me, at the top of the screen, taking a photo -- with my mouth wide open!). Kathy, who lives in Toronto, is the author of 29 kids' books -- and her stories are set during the Holocaust. Her most recent is Under the Iron Bridge (Second Story Books), and in the fall, Second Story will releaase Hidden on the High Wire, the story of a Jewish circus performer hidden in another circus during the Holocaust.
Kathy "Zoomed" (notice that "to Zoom" has become a verb, thanks in part to the COVID-19 pandemic) me for BookFlap -- an on-line platform that profiles children's authors. BookFlap was launched in 2021 by Kathy and her friends, fellow-writers Teresa Toten, Vicki Grant and Marthe Jocelyn. At the start of the pandemic, the four "met" regularly on-line. "Somebody -- I have no idea who it was -- had the idea of putting together the platform: a one-stop shop for children's literature," Kathy told me. "What I've learned is that people are hungry for information about children's literature, writing, editing and promoting. We live in little bubbles and we don't connect enough with others about sharing that information," Kathy added.
Kathy and I had a lively, smart discussion about For the Record (Owlkids) -- I forgot to say that was the purpose of today's Zoom: to discuss my latest middle-grade novel... but I took the opportunity to ask Kathy a few questions too!
I wanted to know if Kathy finds it hard to continue writing about the Holocaust -- and what motivates her to keep doing what she does. She admitted that her work can sometimes feel draining, but that telling Holocaust stories has become her mission -- especially in a time when hatred, intolerance and anti-Semitism are all on the rise. "When I'm at the computer," Kathy told me, "it pulls on me emotionally. But if I want to get the story right, I have to let myself go to the dark places and feel completely."
I often tell my students that writing is an ACT OF COURAGE. I was reminded of that today during my conversation with Kathy. And I'll end today's blog entry with another wonderful, thoughtful quote from Kathy. This one was in answer to my question about why she continues to write stories set during the Holocaust: "You think you've heard everything and read everything. Then another remarkable story comes along and you think, 'I have to write that one.'"
Do I ever love that quote! So here's what I wish for all of us -- that remarkable stories come our way, that we pay attention to them, and for those of us who cab't stop writing, that we WRITE THEM DOWN. And do check out BookFlap!