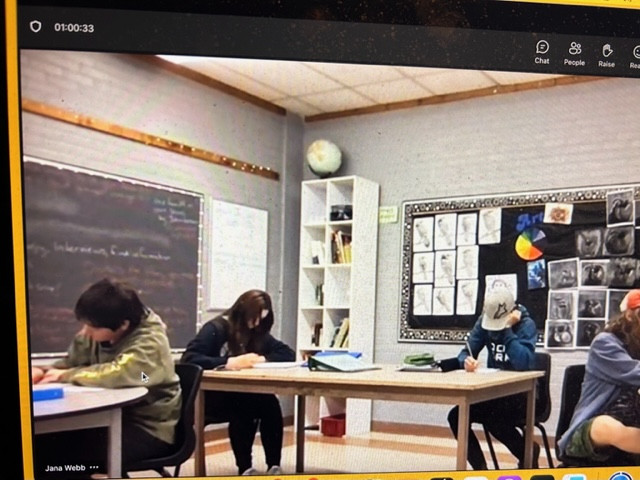 I don't know about you, but my week is off to a great start! That's because it began with a virtual visit to G. Theberge School in Témiscaming, Quebec, where I worked with Mrs. Webb's Grade Eight English class. I'll be doing two more workshops with the same students -- thanks to ELAN's (that stands for English Language Arts Network) ArtEd program. It was 9:20 when our class together started, so I got to watch the students wake up! And though only one student, Corbin, gave me a (small) wave when I asked if anyone in the room might want to write a book one day, most of them were busy writing by the end of the workshop (see today's pic for proof!). There is little I enjoy more than watching young writers writing!
We started off with some writing tips. I told the students to look out for things that are a)odd b)funny and c)tragic. Then, as if to illustrate my point that odd is good, a black dog wandered across my computer screen! This, I learned, was George -- the principal's dog. When I asked about George's story, a student named Anna explained, "He walks around looking for food -- and pats." Not a bad life, don't you agree?
When I told the students that to develop their writing skills they need to both write and read regularly, Mrs. Webb introduced me to a student named Mikayla. "I often find her with a book in her hands -- and one that's not assigned," Mrs. Webb explained. Way to go, Mikayla! As for a student named John, he told me, "I don't mind it [reading]." I loved that line and wrote it down in my notes because I think it's a great example of dialogue, another important aspect of storytelling. To me, the line shows that John DOES like reading, but he didn't want to 100 per cent admit it!!
I'll be near Témiscaming towards the end of May for the Salon du livre de l'Abitibi-Témiscamingue (the French spelling has a 'ue' at the end). Though I'll be staying about an hour away, I am already trying to figure out a way to get myself over to G. Theberge School so I can meet "my" students in real life!
Special thanks to ELAN's ArtEd program for making my visits possible, to Mrs. Webb for sharing your class with me, and to the students for making me happy! Hey, don't forget to do your homework for me for Thursday!!