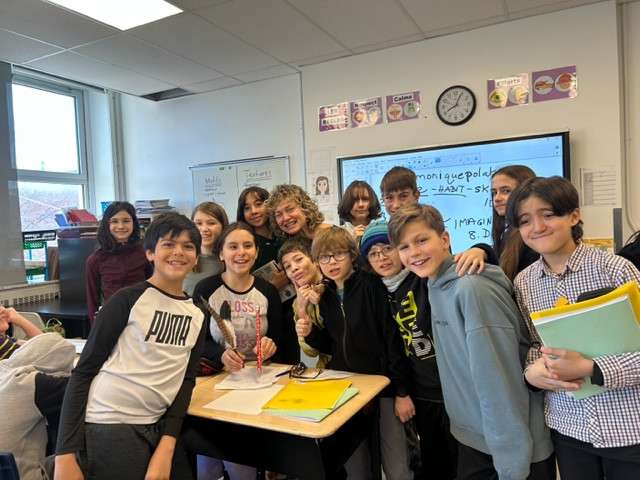 Today's pic was taken last Friday at Lajoie Elementary School where I did a writing workshop for one of Ms. Cristina's Grade Six classes. I was back at Lajoie today, working with two more of Ms. Cristina's classes. What all the students have in common is that they are LIVELY (which makes my days a lot more fun!!).
So let me start by telling you about Bianca. She's the student at the front of the pic with the fancy writing implements. Bianca showed me her feather pen as well as her giant pencil from Switzerland. "I got my feather pen at Salon du Livre," she told me. "It was five dollars." Bianca also told me, "I know a writer in this class." The writer turned out to be Santiago. Santiago and his family come from Colombia, and somehow I also learned that his favourite dessert is called pan de bono. I can't remember now how we got to discuss desserts -- it could be that I was comparing reading to cooking or baking. If you want to become a better writer, you need to read the work of other writers. The same goes for cooking and baking -- we get inspired by tasting others' creations! Anyway, I learned something else super interesting: that Santiago makes graphic novels and that HE SOLD ONE TO A STRANGER FOR $2! That's impressive, Santiago! And thanks, Bianca, for showing me your feather pen and giant pencil -- and for telling me about Santiago's successes!
When I walked into the school today, the kids were just coming in from lunch. One of them asked me, "Are you Monique Quelque Chose?" (For those of you who don't speak French, quelque chose means something or in this case something-or-other.) Anyway, that question made me laugh and I decided that I quite like the name Monique Quelque Chose. I think it suits me!
A student named Ishan also made me laugh when his hand was raised, but because I was in the middle of teaching a writing tip, I asked, "Is it a burning question?" When Ishan told me it was, I said go ahead. And he said, "Oops, I forgot!" But then a moment later, he remembered the question -- he wanted to know which of my books has sold the most copies, and I told him it was my novel What World Is Left, which is based on my mother';s childhood experience in a Nazi concentration camp.
I gave the first class this afternoon a writing exercise in which I asked them to remember learning something for the first time. Sepanta wrote, "I remember when I first learned the Persian alphabet." Cool, Sepanta! If you continue working on that piece, maybe you could describe how you felt the moment you realized you had learned the alphabet. Annabelle gave me permission to quote an excerpt from her piece: "I know of people who like kindergarten, but for me, it was different." Excellent start, Annabelle! As I told her in class, Annabelle has done something important -- and difficult to do -- she has hooked the reader! Keep working on that story, Annabelle! I want to know what happens next.
The last group was just as lively as my other two groups at Lajoie. A student named Mohammed told me, "We are actually writing a book ourselves. We just finished the phase of correcting the text." I love that these kids are learning firsthand about the importance of revising our work. As I told the class, writing a first draft is difficult, but the real work comes during the revisions.
We also talked about how one story leads to another. I told the students how my book 121 Express was inspired by a ride on a school bus, and Mehdi raised his hand and told us a great story about his schoolbus -- and how the driver lost his cool! My favourite part was Mehdi's use of dialogue. Mehdi said, "The driver shouted, 'Stop it, you rascals!'" I don't know about you, but I just love the word RASCALS. When I asked him if the busdriver had spoken in English or French, Mehdi explained that the whole incident happened in French and that the busdriver had said, "Arretez, les petits gamins!" So now I'm extra impressed with Mehdi for telling us a great story, for his great use of dialogue, and for his beautiful translation skills!
Thanks to Ms. Cristina Musila for inviting me to Lajoie; thanks to the kids for being so lively. When I think of you, I will use Mehdi's word: RASCALS. Now get working on those stories you need to tell!