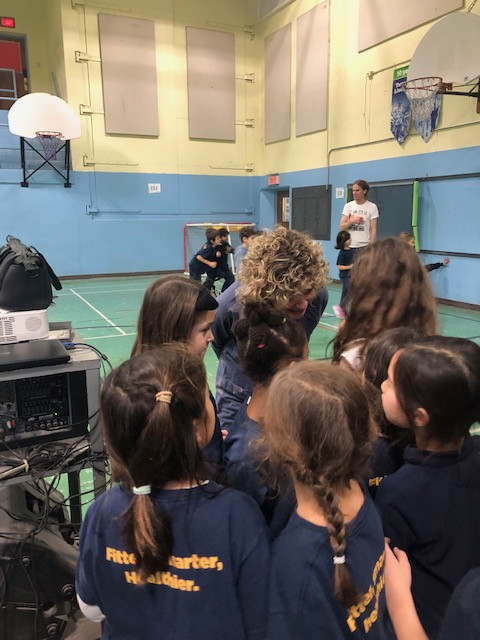 Glorious is a nice-sounding word, don't you agree? This is the first time that I've used the word glorious in a blog title -- but it feels like the right word to describe this afternoon's visit to Roslyn Elementary School.
What, you must be wondering, made today's visit glorious? For one thing, spiritual animator Mikaella Goldsmith found a way for me to share Marie Lafrance's illustrations for my new picture book, The Brass Charm, on a screen all the kids could see. And you know what else? Vice-principal Ms. Tehbelian turned the pages for me! (She did this on a computer.) I've never had a vice-principal help me do my presentation before!
I worked with the school's Grades One and Two students -- and they were super! I told the kids I'd never worked with such a big class before, to which a student named Sadie responded, "We're a group, not a class." Excellent correction, Sadie! I do strive for accurate language!
I shared some writing tips, which a lovely student named Janicia volunteered to write down for the entire group (not class!). Then I told the story behind the story of The Brass Charm, and read the book (with Ms. Tehbelian's help).
The students had loads of questions and comments. A student named Eric told me his family comes from Germany, and like Tali in my book, Eric calls his grandmother Oma too. A student named Talia pointed out her name sounds a lot like Tali. Samuel told me something cool -- that his great-grandfather was born in a train station during a bombing. I asked Samuel if he knew in which country his great-grandfather was born. Samuel didn't know, but told me that he was going to find out! Way to go, Samuel! Once you've found out, you should consider writing your great-grandfather's story!
A student named Helena caught my attention because she was wearing a headband with kitten ears. Helena wanted to tell me that she wrote a book called Pete and Patata. When I asked who Patata was, Helena told me, "It's just a name. I made three copies of my book."
I did my talk in the gym and at 2:45, another group of students was coming in for gym class -- so I couldn't answer all the questions. That prompted me to tell the students they could post questions in the comments section of this blog entry. Or they could always stop me when I am jogging by their school -- which happens about twice a week!
Many thanks to teachers Mme. Valérie; Mme. Mireille; Mme. Mélanie; Mme. D; Mme. Andrea; Mme. Marie-Louise and Mme. Anabel for sharing their students with me. Special thanks to Ms. Goldsmith for the invite, and to Ms. Tehbelian for her assistance. Nice to meet you, Ms. Hawat, a new spiritual animator with the English Montreal School Board. Thanks most of all to the kids for being GLORIOUS! Don't forget to look for me (and ask questions) when I'm out for a run!