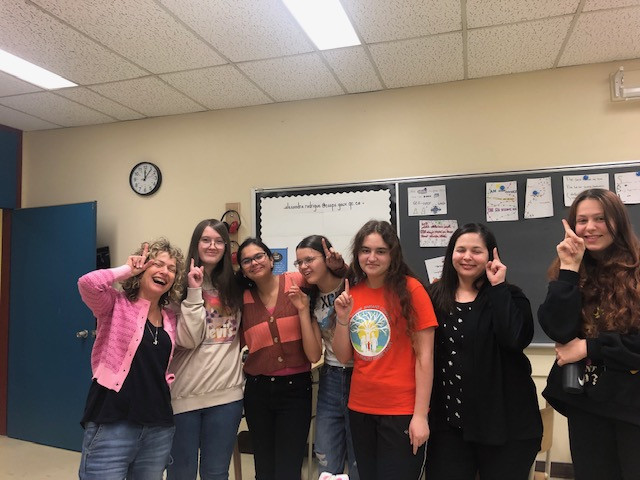 I'll begin this blog entry by explaining what is going on in today's pic. Why am I laughing so hard? And why are we all raising our fingers in such a weird way?
So... here's the STORY! I am in the Quebec City area for two days this week, doing writing workshops with Sec. III students at Ecole Secondaire de la Seigneurie in Beauport. This morning, I worked with one of Ms. Alexandra's classes, and this afternoon with one of Mr. Lord's groups. Anyway, that's Ms. Alexandra wearing black in the pic. Next to her, at the far right, is a student named Sheylann. And yes, don't worry, I'm coming to the explanation for why we're all raising our fingers in a weird way!!
So, I was telling the students that I once read that writing is like EXHALING. Then I asked them, "What do writers do to INHALE?" Instead of raising her hand high into the air the way I used to do when I was a student, Sheylann raised her finger, holding it to the side of her head. I LOVED THAT for many reasons. One is that in 35 years of teaching, I'd never seen a student do that. But the other reason has more to do with WRITING. That's because this small action gave me a glimpse into Sheylann's personality. I decided she's gentle, and perhaps a touch shy. If you know me, you may know I am fascinated by SHY people. I think it's because I am so NOT shy!
Which leads me to tell you about one of the exercises I did today. I taught the students about foils -- characters who are complete opposites in some way. I told the students that having characters who are foils adds interest to a story, and can also help create conflict (which isn't fun in real life, but is absolutely necessary in a story!).
I also read both groups my new picture book, The Brass Charm. This is the first time I've read the story to teenagers -- and I LOVED IT! If a picture book works, it should appeal to people of all ages -- including teenagers. Anyway, it was fun for me to feel the old pleasure of reading aloud -- something I have always loved to do. As I told Mr. Lord's students, stories are gifts. When people tell them to us -- and this includes all people, not just authors -- we need to appreciate them. That's because when someone tells you a story, they are sharing a part of themselves with you.
Here are a few more special moments from my day -- In Ms. Alexandra's class, three students told me they wanted to write a book one day: Andrea, Louna-Kim and Noémie. But before she left the classroom at lunchtime, Sheylann said, "I really want to be a writer." But I did discover something cool -- that Ms. Alexandra's students LOVE FOOD. That's because they reacted positively when I told them writing is like cooking -- that we have to taste other cooks' creations in the same way that we have to read other writers' work.
Along the same lines, Ms. Alexandra told me she had done a "book-tasting activity" with her students. That's a play on wine-tasting, which would not be legal for a Sec. III class -- but a book-tasting is legal and brilliant!
Mr. Lord's class was on the quiet side, but a few students stood out for me. Doric commented that, "Trouble in stories is interesting." YES YES YES! And when we were talking about observing body language, Lili pointed out, "Body language gives emotion." ABSOLUTELY! I also loved when I asked "Why isn't a first draft good?" and Lili answered, "Because it's the first!" EXACTLY!
I'll be back in Ecole Secondaire de la Seigneurie tomorrow, then I take the train home to Montreal. Which, if the Internet on the train is good enough, will give me the perfect oppportunity to let you know how tomorrow goes. Apparently, the students I'll meet tomorrow tend to participate a lot. Of course that's fun. But you know what? I wouldn't change a moment about today. Thanks to Mr. Lord and Ms. Alexandra for the invite. And a big thanks to the students for starting out my 2023 in such a happy way! Hey, I'll be in Mr. Lord's classroom at 9 AM sharp tomorrow in case any of you want to show me the work you did on the writing exercises. A demain! (Don't tell Mr. Lord that I spoke to you en français ici!!!)