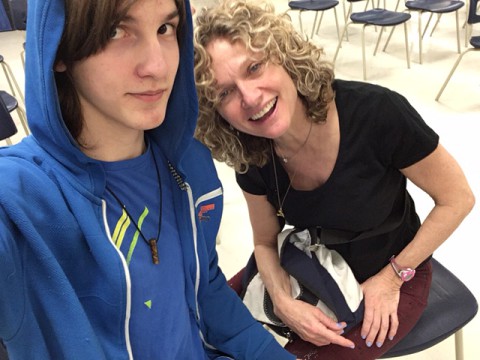 My week got off to a great start with my visit today to Laurentian Regional High School in Lachute. That's me in the pic with a lovely student named Chris who kept me company -- and discussed writing and photography -- during my lunch break. More about Chris later....
I worked with two groups: first, Miss Matthews's grade nines, then Miss Welden's grade sevens. You know how I LOVE TROUBLE? (Well in a story, anyhow!!) These kids were perfect -- they caused no trouble at all. That meant I got to cover a lot of writing tips and also tell some stories. As Louis, one of Miss Welden's students, said, "There's always a story." I couldn't agree with you more, Louis.
Both classes had amazing questions which they'd prepared in advance. One of Miss Matthew's students, Cassidy, asked, "Do you feel a personal connection to your characters?" When I said yes, Cassidy laughed. That's when I knew she was a writer too. Later, when we chatted, Cassidy told me she is working on a project that has over 80 characters. I told Cassidy that I'm reading a novel I really love, Men Walking on Water by Emily Schultz, and it's also what I described as an "ensemble piece" with many characters, all of them fascinating!
Kalina asked, "When you get an idea, do you write about it right away or do you think about it?" Instead of answering, I asked Kalina (who had only known me for about an hour) to guess my answer. She said, "I bet you write about it right away." That was my turn to laugh. Kalina was right. I figure things out by writing about them, though I certainly know other writers who mull a lot before they start typing. I guess I mull at the keyboard.
I explained to both groups that it's important to do research and ask lots of questions. I also told both groups about the monkey man charm I wear around my neck. So I was super-impressed when Mathys, one of Miss Welden's students, asked about the other necklace I wear. Because I like to be as honest as possible at all times, I told the students something I have never told any other kids -- that I had the necklace made after my second marriage broke up. It was a way to use the diamond that I used to wear on my left hand. Mathys, who is SUPER SMART, then asked me, "Is it like you moved on -- but you don't forget the past?" Mathys, I couldn't have put it better myself. Thanks for teaching me that!!
I'll end today's blog entry with a word or two about Chris, who also goes by the nickname Red (because he loves red foxes). Chris is a talented photographer. I know because he showed me some of his nature pics and they are really remarkable. He turned out to be FULL OF STORIES (no wonder I enjoyed his company so much). When Chris was 14, he worked as a baker at the local Tim Horton's. Here's how he described it: "It was hell." These days, Chris says he has a problem with motivation. "I haven't done homework for years, but I'm still passing everything." So Chris, and any other blog readers with a similar approach to homework, here's what I have to tell you: GET SERIOUS, YOU'RE SMART AND TALENTED -- NOW GO USE THOSE GIFTS. AND DO YOUR DANGED HOMEWORK!!
Many thanks to librarian Megan Bryan for inviting me to Laurentian Regional today. And to Miss Matthews and Miss Welden for sharing your wonderful kids. And to the kids for being wonderful.