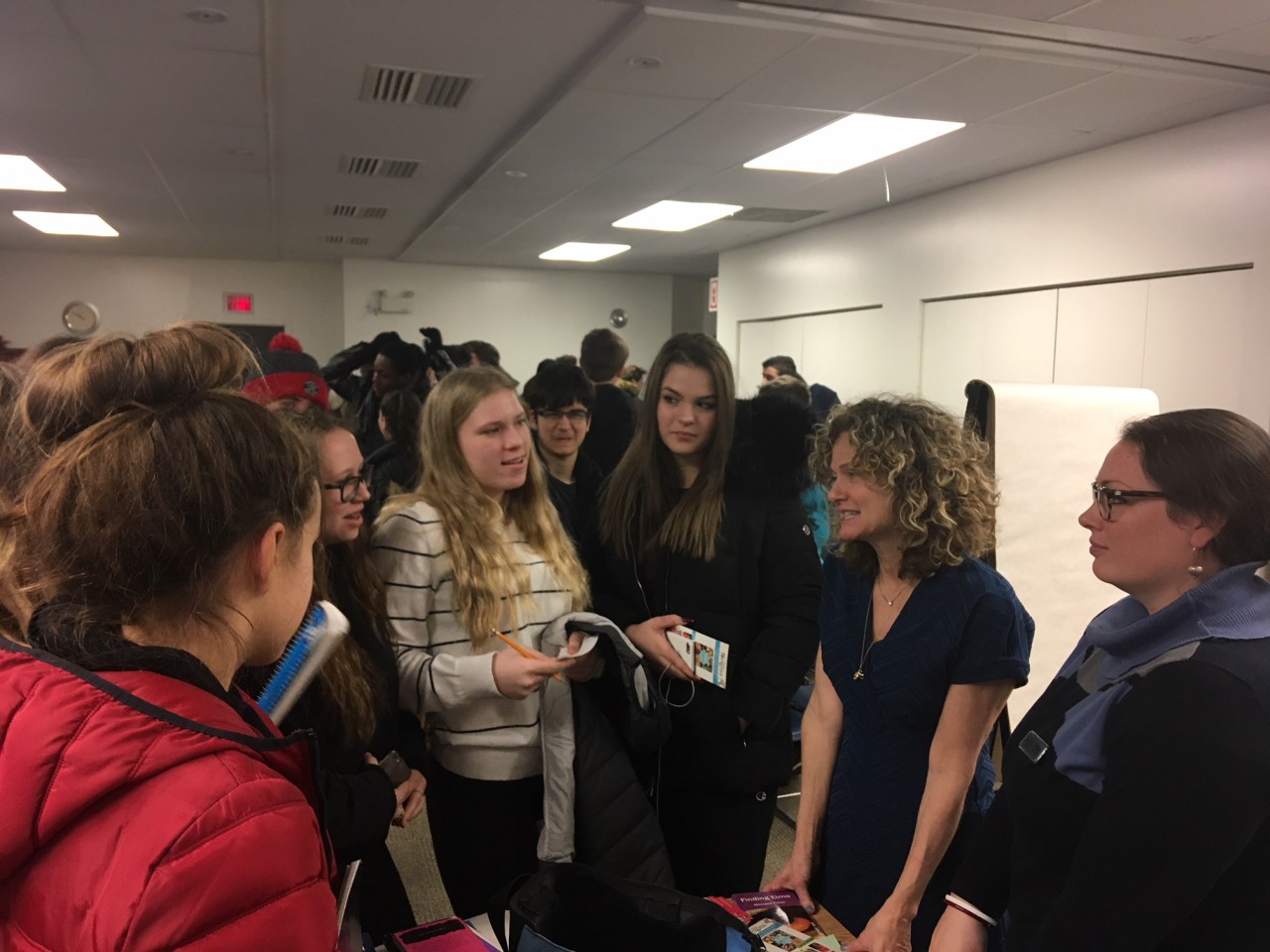 My week got off to a happy start with this morning's visit to Pointe-Claire Library. I was there to work with students from John Rennie High School, which happens to be just across the street. The students were Mr. Elson's Grade Ninew -- and he told me they'd just finished a creative writing assignment -- and that he was impressed with their talent and hard work.
Though I had to do a bit of crowd control (hey, I'm a teacher too, so I have tricks for getting students to stay quiet and focused!), I think that overall, I managed to share a lot of information. In fact, in the 75 minutes I had with the students, I pretty much told them everything I've figured out in a lifetime of writing, such as it's all about the re-writing, that stories need trouble, and that if you know the "smell" of trouble, it will help you become a writer.
A few details from the visit:
A student named Nathan had the perfect body language for someone listening to a writer -- I snapped a pic, but in the end, I decided to use this one instead (it's from when a few students came to say good-bye to me). But in the pic I took or him, Nathan is: smiling, leaning in so he can look right at me, and also looking very smart (the glasses help, Nathan!).
A student who didn't want to tell me her name asked an excellent question: "When you use real people in your stories. do you ask their permisssion?" I think she was HORRIFIED when I answered, "No!" But then I explained that mostly, real people INSPIRE my characters -- I usually change them up so they are not identifiable. So you see, I'm not THAT EVIL!
I student named Elianne impressed me with her SNOOPINESS. (I had told the students that snoopiness is an important trait for writers.) I was explaining that when I was doing a writing exercise recently with students, one yount man got quite upset. Elianne asked: "What sort of exercise did you do?" I explained that it was an exercise having to do with memory -- and I actually ended the workshop today by getting the students to do a similar exercise. As I told them, memory is an important part of a writer's toolbox.
When I told the students that I run and that running helps my writing, a student named Gabriel commented: "You think when you run." Later, Gabriel told me that though he doesn't run, walking works to help him think. "When I need to think," he said, "I go for a walk by the water in Trois-Rivières, where I used to live."
Because there were so many students, there wasn't time for me to take a peek at all their writing. But I did get a chance to read what Nikko wrote during the memory exercise -- he remembered playing soccer at school when he was in Grade Four. My favourite line in his piece was: "the lunch ladies got mad because the kids jumped over the fence." Nikko, you should write about those lunch ladies -- and how the kids drove them crazy!
Mr. Elson happens to be married to Mary Frauley, my dear friend and office partner at Marianopolis College. So it was a special treat for me that Mary and their daughter Tess were in the audience too. Oh, I nearly forgot to tell you something SUPER INTERESTING that Mr. Elson told me -- and there's definitely a story behind it! He said, "One of my students told me, 'It's nice to go into that building [the library] because I'm banned from there!" I THINK WHOEVER THAT PERSON IS SHOULD TURN HIS EXPERIENCE INTO A STORY!!
So... thanks to Mr. Elson for bringing your students out to the library this morning; thanks to Mary and Tess for coming too; thanks to the students for being MOSTLY excellent and for doing a GREAT JOB during the writing exercise. And finally, thanks to teen services librarian Radha-Prema McAllister for the invite -- and the happy start to the week!