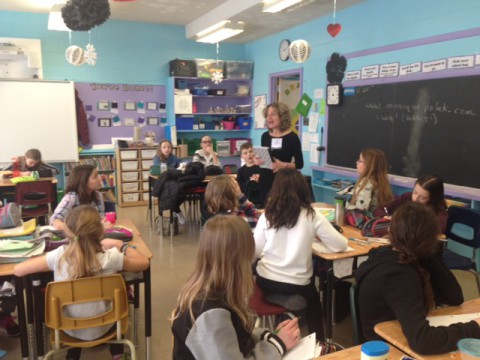 We've had 30 centimeters of snow in the Montreal area -- so I was a little nervous about driving out to Chambly this morning to do the first of two visits at William Latter School. But I needn't have worried. The drive went well, and the students were WONDERFUL.
I worked with two groups of Grades Five and Six students. I started the day with Genevieve's class. When I asked them whether they are the kinds of people who ask themselves WHAT IF? a lot, I was astounded by the answer. Twenty of the twenty-two students, as well as Genevieve, are all WHAT IF? wonderers. For me, that means they are potential writers. It's by asking myself the question, "What if?" that I'm able to advance the plot in my stories.
When I asked the students why it's a good idea to interview old people, a student named Kyra shot her hand up into the air. "It's because," she said, "they're more old and they know more things!" Exactly, Kyra!
I also talked about the Holocaust and my historical novel, What World Is Left, which is based on my mum's experience in a Nazi concentration camp. We talked about how we need to make sure that every single person on our planet is treated equally -- and how it is more important than ever to stand up for each other. I like to think that reading and writing stories are a way for us to build connections with each other.
My next stop was Daisy's class. There I met a smiling student named Riley. When I commented on his smile, his classmates called out, "We call him 'Smiley Riley.'" Now don't you think that would make a great book title? I also met a student named Graham, who explained that his friends call him, "Graham Crackers." Maybe there should be a book called, "The Adventures of Smiley Riley and Graham Crackers."
Because I had both groups for two hours, there was time for writing exercises. (Yay! I love writing exercises. There's nothing that pleases me more than to see pens flying on the page!!) I thought I'd end today's blog entry with some of my favourite lines from the students' work. Here's how Antonia described the voice of someone she dislikes: "her voice is like someone strangling a rat." Yikes -- can't you just hear it? A student named Elorie started her piece about an imaginary character by writing, "My name is Maude and I am famous, well, I was." I definitely want to find out what happened to Maude!
For last period, I was back with Genevieve's students. There, a student named Lana wrote about her memory of the first day of school: "No one knew me and I didn't know anyone." I find that line hauntingly beautiful! And a student named Tiffany wrote about a girl who was bullied; the bullies called her "Creepy no life girl." Now that's a book title if I ever heard one. Tiffany, if you don't write that book, I may have to steal your title!!
I'll be back at William Latter to work with two more groups of students next Monday. I'm crossing my fingers that they'll be as bright and creative as the students I met today. And for anyone who wants to pop by and show me their writing, I'll bring my lunch and eat it in Genevieve's classroom. Okay, off I go to my own students at Marianopolis College -- have a good week, dear blog readers!