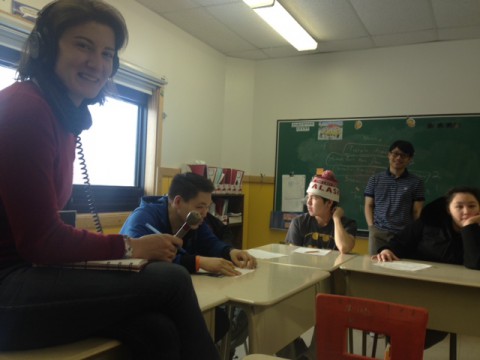 I'm just just home from an AMAZING, dare I say LIFE-CHANGING trip to Salluit, where I worked with two groups of students at Ikusik School. Salluit is the second northernmost community in the province of Quebec. I was there thanks to an amazing Blue Metropolis Literary Foundation project called Quebec Roots. The seven classes participating in Quebec Roots this year will each be contributing a chapter to a book that will be published at the end of the school year. The kids are writing and taking photographs on a subject linked to the theme of community. My friend, photographer Monique Dykstra (when we work together, we are known as "The Moniques") will head to Salluit in two weeks to work with the same students. Usually, "The Moniques" travel as a pair, but this time we divided up the trips. And though I missed her company, it was great to have nearly two full school days to work with the students. AND SOME OF THEM EVEN TURNED UP AFTER SCHOOL ON TUESDAY TO DO A LITTLE MORE WRITING. YAY!!!!
Even without Monique, I wasn't working alone. Kativik School Board English consultant Crystal Speedie was there too, providing wisdom and guidance. And so was teacher Christopher Kim, a lovely, kind guy who shared his students with us. We were also accompanied by two reporters: Christopher Curtis of the Montreal Gazette, and Marika Wheeler of the CBC. In today's pic, the YOUNG woman working with the students isn't me, it's Marika. She was there to interview the students about Quebec Roots, but I asked if Marika could take a few minutes to share her advice about interviewing. So I took today's pic, while she was talking to them. She reminded students that when they are interviewing members of their community, it's better not to ask "close-ended" questions -- meaning questions that get a "yes" or "no" answer. Instead, she recommended "open-ended" questions.
My main goal this week was to help the students choose topics for the chapters they will be contributing to this year's edition of Quebec Roots. The younger students came up with the brilliant idea of writing about "Community and Sharing." Credit here goes to a student named Nathan, who personally generated a whole list of ideas -- then the kids voted since the thinking behind Quebec Roots is that we really want kids to feel invested in their chapters. The timing could not have been better for this subject -- that's because on Monday, there was a community feast to mark the arrival of two young men who are doing a walking journey in Nunavik to raise awareness about abuse of all kinds. Nearly everyone in town turned out for the feast -- and everyone brought food and shared it.
The older kids decided to write about the topic of "Purple Dope" -- a term that refers to marijuana. Not all of the kids in the older group are marijuana users, but even the ones who aren't voted for the topic, saying they wanted to learn more abou it. At first, I have to admit that I was slightly worried about the choice of topic, but once the writing started to happen, I really felt like it was an important topic that needs discussing. Wait till you read our chapter! I thought I'd give you a sneak preview here today -- the following passage comes from a group poem the kids wrote about an example of the pain that leads to drug use in their community: "The pain also comes/ When loved ones die/ Or when we have alcoholic parents/ It's horrible./ They beat each other up./ Then both of them get sent to jail./ And there's no one to look after us."
Not an easy passage to read, I know, but an important, beautiful one. So here I am, back at my desk in Montreal, but I must say that my mind and heart are with the kids I worked with at Ikuskik School. Keep writing, learn a lot about photography from the other Monique -- that way, you will be able to tell your stories. I already miss you guys!